Gulf Air latest to adopt iPad electronic flight bags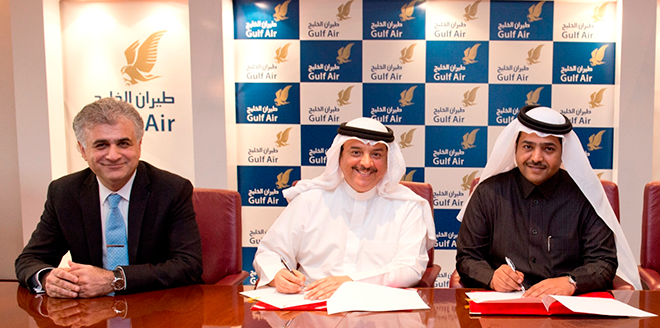 Gulf Air, the Kingdom of Bahrain's flagship air carrier, announced last week the adoption of an iPad-based electronic flight bag program in cooperation with local telecommunications provider VIVA Bahrain.
Spotted by AppleInsider reader Hussain, the carrier's plan to roll out its iPad EFB program was revealed in a meeting on Sunday that covered Gulf Air's Information and Communication Technology initiatives. In all, 355 iPads will be purchased and distributed throughout the airline's fleet.
"We are proud of our existing strategic relationship with VIVA Bahrain and pleased to extend this partnership to include the provision of iPad devices as part of Gulf Air's Electronic Flight Bag project," said Gulf Air Acting CEO Maher Salman Al Musallam. "This is an essential component of our ongoing commitment to all new technology that provides integrated solutions for managing information in the air and on the ground."
While not as massive a rollout as major airlines like American, which now has more than 8,000 iPads issued as EFBs throughout its fleet, the Gulf Air buy reinforces the impact Apple's tablet is having on a wide variety of industries. For air travel, the device replaces heavy kitbags traditionally carried by pilots and crew, saving weight and thus fuel.
"At Gulf Air we always endeavor to leverage the latest technologies in order to improve the efficiency of the airline's operations and provide better services to our passengers," said Gulf Air Director Information Technology, Dr. Jassim Haji. This collaboration ensures we deliver the latest technology to our team and, as a result, to our passengers."
Along with commercial airlines, the U.S. Air Force is also using iPad EFBs to cut down on fuel costs. It was estimated that the switch to paperless flight bags will save the branch's cargo unit some $750,000 in fuel and $5 million in printing costs per year. The Air Force said it plans to save $50 million with its deployment of 18,000 iPads over the next ten years.