Latest Xcode 6 beta hints at large screen iPhones and iPads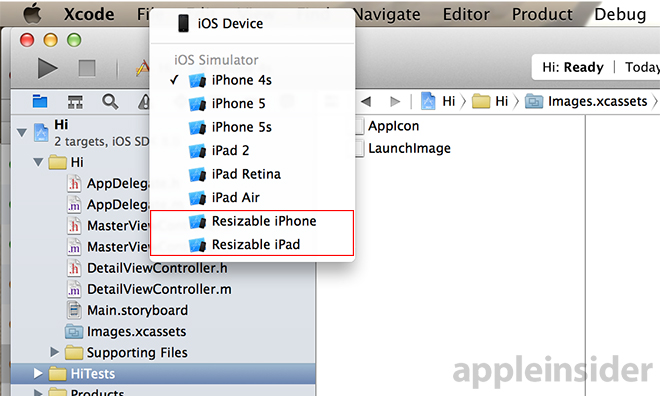 Alongside the latest OS X 10.10 Yosemite and iOS 8 developer preview releases, Apple on Monday issued Xcode 6 beta with a number of interesting features including the ability to code for "resizable" iPhones and iPads.
Following the Worldwide Developers Conference keynote, Apple released Xcode 6 beta with changes that reflect the coding environments for Apple's upcoming platforms, including "Resizable iPhone" and "Resizable iPad" options. The new functions were first spotted by French blog Mac4Ever and hint at as-yet-unannounced hardware.
The options can be found in the iOS Simulator tool, which itself comes with new configurations that let developers group data and configuration settings together. While not mentioned specifically in the "What's New" release notes, the resizable iPhone and iPad elements suggest Apple is planning to debut new device sizes in the same timeline as the rollout of iOS 8.
Apple is widely expected to debut a larger 4.7-inch iPhone this fall, with a 5.5-inch "phablet" version to see launch in the weeks or months following. As for the iPad and iPad mini, some analysts believe larger-screened versions won't come until 2015 at the earliest, while upcoming refreshes will focus on Touch ID integration and possible speed boosts.