Japan's latest Apple Store features all-glass walls, aluminum roof and spiral staircase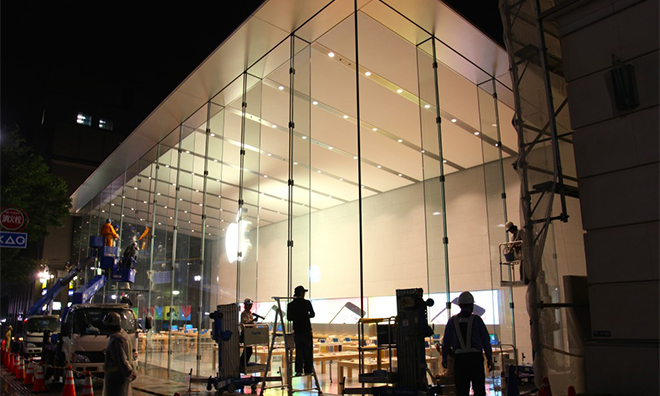 Construction workers have removed the protective barriers fronting the upcoming Apple Store in Omotesando, Japan, revealing three all-glass walls, a hanging Apple logo and central spiral staircase leading to an underground level.
The first photos of Apple's brick-and-mortar outlet come courtesy of Japanese blog Ringo-Sanco, which caught the unofficial unveiling early this morning as workers took down barriers protecting the store's facade.
The box-like structure shares the new architectural design language first seen in the "Stanford 2" Apple Store in California, with three glass walls holding up what looks to be a thin aluminum or aluminum clad roof. Compared to the Stanford location, Japan's latest Apple Store features much taller walls and a central spiral staircase.
As seen in the photo above, the top level is dedicated to product displays, including the usual iPhone, iPad and Mac stations found in Apple Stores around the world. It is thought that the Genius Bar, accessories showcase and other Apple Store staples are located on the lower level.
As noted in a previous report, the Omotesando Apple Store will feature an eco-friendly "green curtain" of leafy vines to keep heat inside the store to a minimum. The foliage covers the exterior of the back concrete wall that is exposed to direct sunlight during the day.
According to Apple's website, the Omotesando store is set to open on June 13 and will be open seven days a week from 10 a.m. to 9 p.m. local time.