Apple video offers peek inside new Japanese retail store ahead of grand opening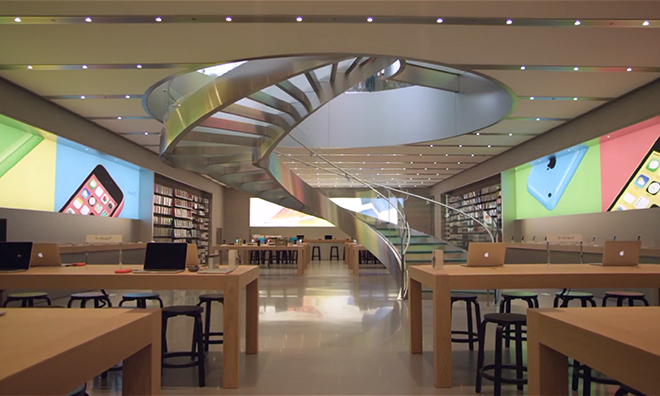 AppleInsider may earn an affiliate commission on purchases made through links on our site.
Apple on Wednesday published to its official YouTube channel a video highlighting the design of its latest Apple Store located in Omotesando, Tokyo as final preparations are made for a grand opening on Friday.
Two days after pictures of the new Omotesando Apple Store hit the Web, Apple released its own in-house video of the outlet including behind-the-scenes footage of back room stocking and floor display preparations.
Prior to the video's release, the underground level's layout remained a mystery. As suspected, however, the central spiral staircase — made of what appears to be brushed aluminum — leads to additional display floor space, a Genius Bar and accessories racks.
Among the architectural features of Apple's soon-to-open store is a "green curtain" of foliage that drapes over the rear concrete wall, put in place to cut down on energy needed to cool the box-like structure during the day.
Aside from the greenery, the store shares Apple's fresh architectural design language seen in other locations like the "Stanford 2" Apple Store in California. With three glass walls holding up a thin aluminum or aluminum clad roof, the new store designs evoke a feeling of openness that invites passersby to look at the products on display and maybe come in. Compared to the Stanford location, the Omotesando Apple Store is about twice as tall and includes a lower level.
Apple's video comes just one day (local time) ahead of the Omotesando store's official grand opening, which is scheduled to take place at 10 a.m. on June 13.