Developer uses hidden iOS 8 code to show off rumored split-screen iPad UI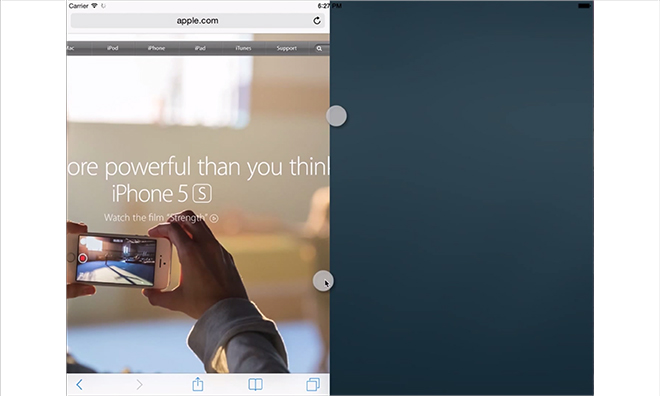 AppleInsider is supported by its audience and may earn commission as an Amazon Associate and affiliate partner on qualifying purchases. These affiliate partnerships do not influence our editorial content.
After discovering code in Apple's iOS 8 beta pointing to a split-screen iPad user interface, developer Steven Troughton-Smith on Wednesday hit on a way to make the feature work and published his findings to YouTube in a type of proof-of-concept video.
Troughton-Smith, who has been digging through Apple's iOS 8 code since the software was released to developers earlier in June, uncovered the split-screen option on Monday. As seen in the video below, he's managed to patch together a method of invoking the multitasking view in an iOS device simulator.
The short video shows the split-screen capability in action as viewed on a simulated iPad in landscape orientation. It looks as though the function could be enabled with a two-finger gesture, but Troughton-Smith is unsure how the view is invoked as he had to work around SpringBoard and tweak UIKit to turn it on. As he previously noted on Twitter, the two-up windows can be resized into "1/4 size, 1/2 size, or 3/4 size" panes.
It is unclear if Apple plans to enable the split-screen multitasking feature when iOS 8 makes its public debut this fall, though current developer builds do not grant easy access to the functionality. The feature is supposedly targeted at 9.7-inch iPads like the latest iPad Air and it is unknown if smaller devices will be able to access the view.
A rumor in May was the first hint that an iPad-only split-screen view was coming to iOS 8, allowing users to interact with two apps simultaneously side-by-side.
Other tablets on the market, notably Microsoft's Surface lineup, already have the ability to display multiple apps at once and "snap" them into place. The method works well for devices with limited screen real estate.