Google flips switch on Instant Buy for iOS apps, roots deeper into Apple's mobile platform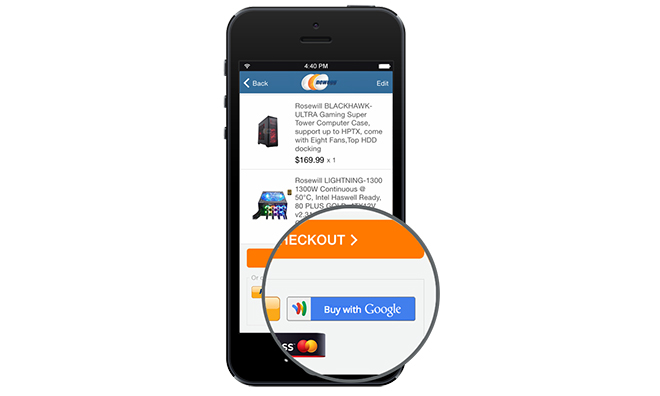 AppleInsider is supported by its audience and may earn commission as an Amazon Associate and affiliate partner on qualifying purchases. These affiliate partnerships do not influence our editorial content.
Google on Wednesday announced iOS support for Instant Buy, the Google Wallet-based authentication and payment system that lets customers bypass shop and make purchases with as few clicks as possible.
With the Instant Buy API for iOS, which leverages Google Wallet and the Internet giant's authentication backend, companies have a better chance of converting app visitors to sales, says Google.
A major hurdle for conversion is typing in billing information like credit card numbers, shipping details and more, a process made more inconvenient on small-screen mobile devices. Instant Buy offers users a streamlined checkout process that in some cases takes as few as two clicks.
The system works by storing the required payment and shipping information on Google's servers, which then serves up the data to merchants after a user clicks the "pay" button. Sellers can then transfer the information to a payment processing service of their choosing.
As noted by Google, merchants and developers selling physical goods and services can integrate Instant Buy without facing any fees, though sellers have to sign up and be vetted before applying the API to their apps. Google also offers its own fraud monitoring service for accepted merchants.
Google Wallet Instant Buy has been available on certain mobile websites and the Android platform for one year and will launch on iOS with partners B&H, Eat24, Fancy, Newegg, Sionic Mobile and Wish.com. According to Google, most launch partners already have the service installed in their mobile and Android storefronts.
Apple does not yet have a dedicated wallet service for apps, but is making the process of online purchasing a bit easier in the upcoming iOS 8 with credit card scanning in Safari. The company is thought to be working on a more comprehensive payments tool that may incorporate the Touch ID fingerprint recognition system, but the rumored solution's delivery date is unknown.