Apple predicted to sell 'iWatch' to at least 10% of existing iPhone users in 2015

With Apple widely expected to launch a wearable "iWatch" later this year, market watchers have begun to speculate exactly how many wrist-worn devices the company could sell, with one new projection pegging the device with at least 10 percent penetration among iPhone users in the first full year.
With an estimated active iPhone installed base of 335 million users by the end of 2014, analyst Keith Bachman of BMO Capital Markets believes Apple could sell at least 33.5 million of a so-called "iWatch" in calendar year 2015. That figure, revealed in a note to investors this week obtained by AppleInsider, represents the analyst's low-end projection.
If Apple were to somehow tap in to 15 percent of existing iPhone owners, it would mean sales of 50.3 million "iWatch" units. And if 20 percent of the projected iPhone installed base were to buy, Apple would sell 67 million units in 2015.
Bachman's figures assume an average selling price of $250 per unit with gross margins around 25 percent. With those projections, he believes 10 percent penetration among iPhone owners would add 3.1 percent to Apple's calendar year 2015 earnings per share, while 20 percent adoption would add 6.2 percent to 2015 EPS.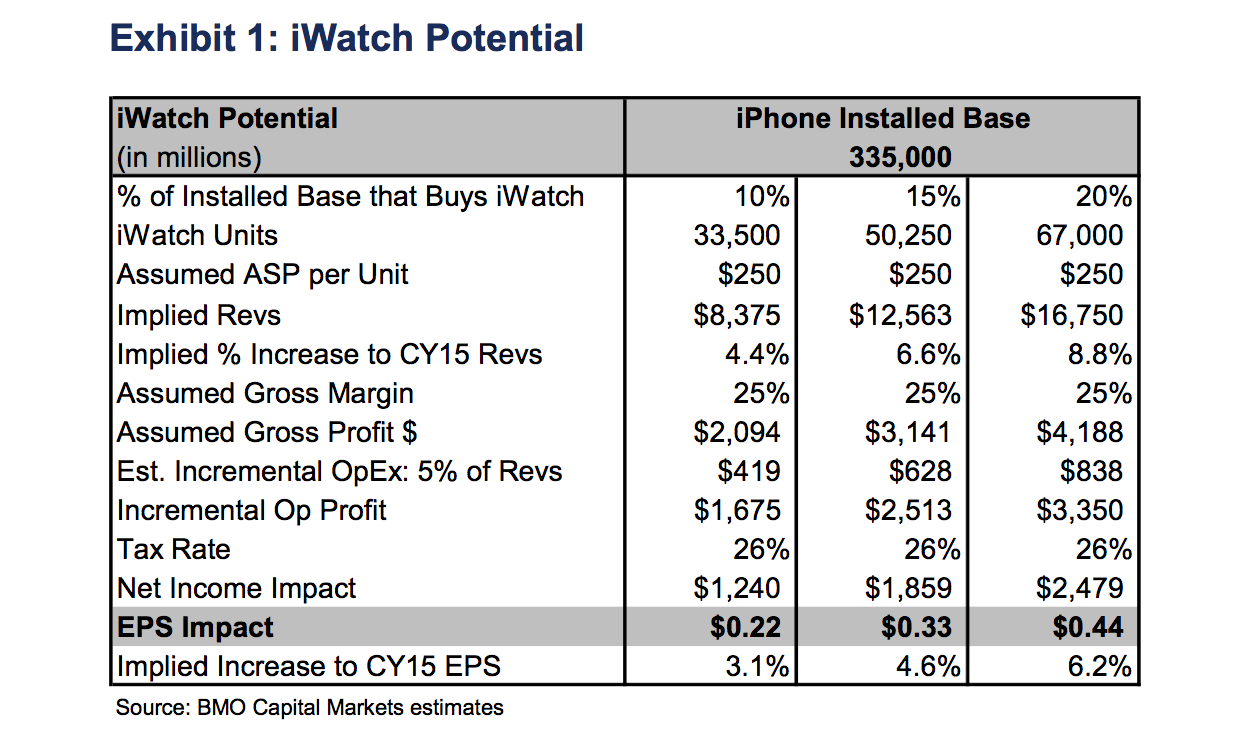 "We think a key driver of adoption will be meaningful applications," Bachman wrote. "We believe that the initial focus will be health and fitness applications, but to reach 20% adoption levels, Apple will need to have more applications than just health and fitness, to include applications for professional/work usage."
BMO Capital Markets has maintained its "outperform" rating for AAPL stock with a newly revised price target of $98, reflecting the 7-for-one split that occurred with shares on Monday.
Rumors of an Apple "iWatch" have proven so persistent that many on Wall Street, such as Bachman, are treating it as an inevitability. Reports have pegged the device for an October debut, which would make it available to purchase in time for the lucrative holiday shopping season.
One report from earlier this month claimed that Apple was "confident" in the product, and planned to build up to 5 million units per month. If the company were to maintain that pace throughout 2015, that would mean shipments of 60 million units — on the high end of Bachman's prediction.
That same report claimed that the "iWatch" will sport a curved OLED touchscreen, and that it will track sleep activity, blood oxygen levels, blood glucose, and even aid in keeping tabs on calorie consumption. The device is also expected to connect to a user's iPhone, allowing them to read messages and accomplish tasks without pulling the device out of their pocket.
If Apple were to sell even Bachman's low-end prediction of 33.5 million "iWatch" units, it would likely represent the most successful product launch, in terms of units sold, in the company's history. The first-generation iPad was considered a major success when it debuted in 2010 and sold 14.8 million units in its first 12 months. In comparison, the first-generation iPhone sold just 6.1 million units in its first year.