Apple could sway 35% of Android & Windows Phone buyers with bigger iPhone, survey finds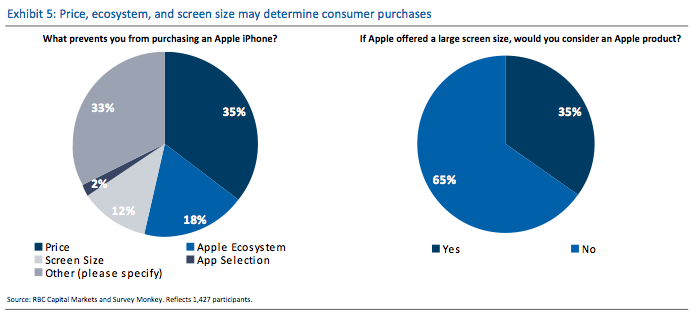 AppleInsider is supported by its audience and may earn commission as an Amazon Associate and affiliate partner on qualifying purchases. These affiliate partnerships do not influence our editorial content.
Already on track to capture nearly half of the smartphone market in 2014, Apple could dramatically expand the iPhone's customer base at Android's expense by adding a new model with a larger display, according to a survey released Tuesday by the investment arm of the Royal Bank of Canada.
After speaking with some 4,000 consumers, RBC Capital Markets found that of those planning to purchase a smartphone from Apple's rivals this year, 35 percent would instead choose an iPhone if they could have a display larger than the 4-inch part found on the iPhone 5 series. The numbers were revealed in a note to investors from RBC analyst Amit Daryanani, a copy of which was provided to AppleInsider.
Respondents were even willing pay extra for a jumbo 5.5-inch iPhone, with a $100 premium — bringing the subsidized cost to $299 — deemed justified for the additional screen real estate. Apple is rumored to have been exploring such an increase with its carrier partners.
Battery life, long a focal point for smartphone critics, was found to be the most important factor driving the hypothetical decision to upgrade. 33 percent of respondents listed that change first, with 23 percent choosing a larger display and 18 percent looking to processor improvements.
The traditional two-year mobile contract continues to define smartphone upgrade cycles, the survey said, though consumers are increasingly attuned to the release of new devices. 74 percent of those polled are aware of Apple's upcoming iPhone refresh, and 40 percent said that a new generation of hardware would prod them to change devices.
The latter point could prove beneficial for Apple as American wireless providers continue making moves to curb up-front handset subsidies, which are the primary reason for two-year service agreements. With no lasting contractual obligations, consumers would be free to switch to the latest and greatest at any time.