Google "dismantled" Android hardware initiatives after buying Nest, claims disputed report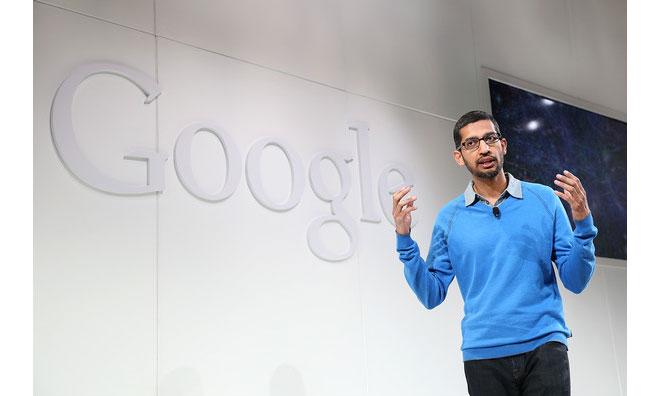 A report seeking to profile both Google's Sundar Pichai (who replaced Andy Rubin as head of Android) and Nest founder Tony Fadell claims that Pichai appointed Fadell to run Google's hardware. Fadell retorted that the story "is 100% wrong," but neither he nor Google have refuted any of the more titillating details about Pichai or the search giant presented in the article.
A paywalled report by The Information, titled "At Google, Larry Page Finds His Right-Hand Man," detailed Pichai as the new head of Android, "tasked with using Google's Android and Chrome software to bring the company's revenue-generating Web services and mobile apps to billions of people around the world."
The report stated that "Pichai is also working to assure that all smartphones powered by Android mobile operating system offer the same type of experience [an allusion to Android Silver], and trying to make Android smartphones and tablets a more appealing option for business customers [a reference to Android's poor representation in the enterprise], in both cases trying to catch up to rival Apple."
Pichai, who formerly ran Google's Chrome initiatives, took over control of Android early last year after Rubin was demoted to a position working on nebulous "future products," said to be related to actual robots and even jetpacks.
Rubin, the original founder of Android, had been pushing Google to invest in a series of failed initiatives ranging from Android TV to the Nexus Q to Android 3.0 Honeycomb tablets, and was said to be the primary proponent pushing for Google's disastrous acquisition of Motorola Mobility.
Google's purchase of Motorola resulted the incineration of hundreds of millions of dollars in quarterly losses while churning out a series of product flops before the company finally pulled the plug on what turned out to be one of the most epically embarrassing failures in the history of technology.
Fadell disputes his reported role in owning Google hardware
After announcing plans to dump Motorola, Google subsequently acquired Nest, a hardware company founded by Fadell, who at Apple had spearheaded work to deliver the original iPod over a decade ago. The Information stated that after the acquisition of Nest, "Mr. Pichai dismantled almost all of the Android team's hardware initiatives in order to let Mr. Fadell effectively 'own' Google's consumer electronics operations."
In response, Fadell used Twitter to insist, "The Information is 100% wrong! I run Nest as a separate biz w/ its own mgmt & brand."
The site then replied, "Hi Tony. We never said you didn't run Nest as separate biz w/ own mgmt and brand! What line are you talking about?"
Various blogs interpreted the report as Gizmodo initially did, claiming that "The Genius Behind the iPod Is Now In Charge of Google Hardware," before later adding a quote from "a Google spokesperson" who similarly stated, "Tony runs Nest as a separate business, with its own management team and brand. It's more than enough to keep him extremely busy."
No disputes about Pichai's role or track record at Google
Apart from questioning Fadell's role at Google, neither Fadell nor Google addressed any of the other claims made by The Information, none of which conflict with what is already known about the company.
For example, Pichai is described in the report as a "team player," a role that enabled him "to outlast or gain more power than his peers as Mr. Page [Google chief executive and the inventor of PageRank, the foundation of Google's search ranking business] has sought to quell infighting among top executives, which has plagued Google from its earliest days."
In addition to surpassing Rubin, Pichai has also outlasted Vic Gundotra (who left the company after struggling to gain traction for Google+, his pet project as SVP of Google Social) and Marissa Mayer (who left Google to become Yahoo's chief executive after being passed over for promotions), making Pichai the apparent "right hand man" of Google's chief executive Page.
The report also cited critics as alleging that Pichai "isn't a wellspring of ideas and doesn't have grand visions of the future," citing in particular the failure of Chrome OS laptops or the Chrome Web Apps store to gain any real traction under his direction.
Pichai's success with Chrome, failure with Chrome OS
Chrome OS was cited by Steve Jobs as a primary reason (along with Android) for Apple's decision to distance itself from Google in the removal of Eric Schmidt from Apple's board in 2009.In 2010, Google's partnership to produce Chrome OS notebooks with HP fell apart after HP acquired Palm for its webOS
Two other board members who formerly served both companies, Intuit Chairman Bill Campbell and former Genentech CEO Dr. Arthur Levinson also severed their ties with Google that same year.
While Jobs didn't articulate it in public, that was the same year Apple began working on its own maps backend powered by a series of acquisitions, as well as new efforts to line up alternative search services focused on Microsoft's Bing and the company's own Spotlight and Siri (acquired in early 2010).
Additionally, Apple also began efforts to develop its own in-house advertising network that became iAd, formed from the early 2010 acquisition of Quattro after Google blocked Apple's efforts to buy AdMob in late 2009.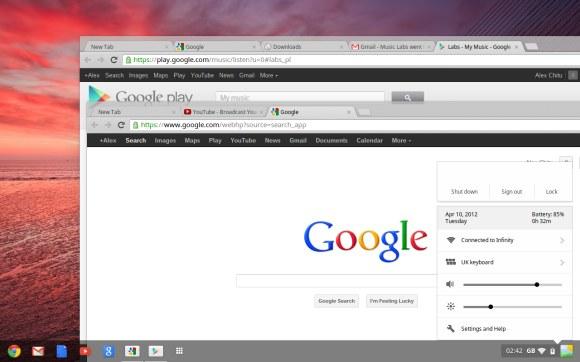 The Information also reported that in 2010, Google's partnership to produce Chrome OS notebooks with HP fell apart after HP acquired Palm for its webOS, resulting in a decision to abandon its plans for Chrome OS. That resulted in a "delay in bringing the Google-designed laptops to market."
Slack interest in Chrome OS motivated Google to revamp the system to look and work more like Windows in 2012 (above). Google has since worked with Samsung to deliver Chromebooks (below), but that relationship is also under tension as Samsung threatens to move from Android to its own Tizen."Pichai told Samsung's mobile-products leadership that he was willing to 'walk away' from Samsung"
Just six months ago at the January Consumer Electronics Show, "Pichai told Samsung's mobile-products leadership that he was willing to 'walk away' from Samsung, the biggest maker of Andorid smartphones, according to a person who was officially briefed about the meeting at Google," the report noted.
A resulting "uneasy truce" was reached between Samsung and Google after a tense standoff where "Pichai was prepared to forbid Samsung from using Android," the report stated, noting that "the threat was part of a long-running feud between the companies over Google's perception that Samsung is hijacking Android by de-emphasizing Google's pre-installed, revenue-generating applications in favor of competing Samsung apps, among other things."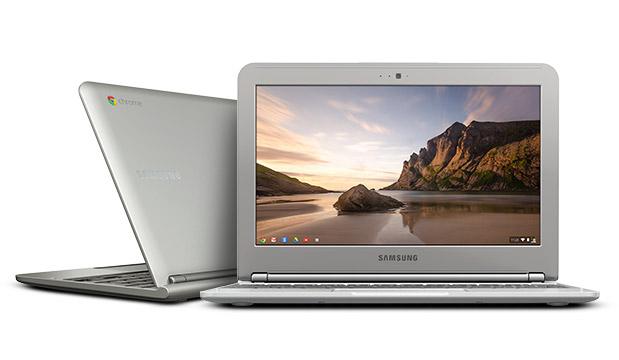 The report also observed that "the rise of tablets like the iPad, combined with consumer hesitation about machines that function only with an Internet connection, have rendered Chromebooks a niche product so far."
The failure of Chrome OS has been ameliorated by the success of the Chrome browser itself, which helped Pichai climb to the top of Android "as Mr. Rubin stepped aside to build robots."
Notably, while quickly jumping to refute the reported role of Fadell, Google did not dispute the fact that Chrome OS hasn't worked out according to plan or the ideas that "Pichai dismantled almost all of the Android team's hardware initiatives" and that Google and Samsung have suffered through bitter strife as frenemy-rivals.
It is also well known that Pichai scuttled Rubin's efforts to relaunch a third attempt to deliver Android TV when he took over Android earlier last year. At the same time, Pichai has reiterated Rubin's open ideology regarding Android, noting on the subject of mobile security in February that "we do not guarantee that Android is designed to be safe; its format was designed to give more freedom."