Google looks to squeeze Apple in emerging markets with new Android One program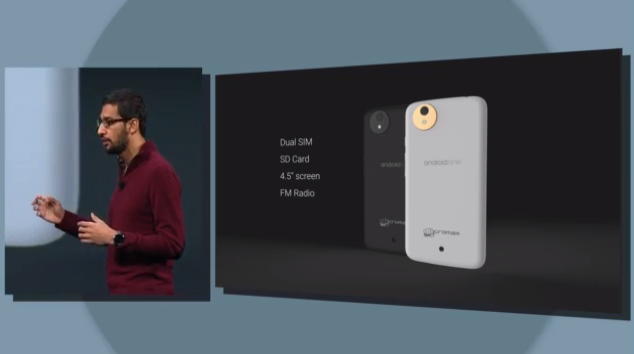 Apple's aging iPhone 4s remains popular among consumers in emerging markets looking to move up from entry-level devices, a positioning that Google is preparing to challenge with a new series of Android handsets that combine stock Android software with low-cost hardware.
Dubbed "Android One," the initiative will see Google work directly with local electronics firms to develop low-cost hardware designed for the unique needs of each market. Manufacturers can take advantage of hardware reference designs for faster time-to-market and lower development costs, while the inclusion of stock Android will help to alleviate the outdated software that plagues Google's platform in low-end devices.
India will be Android One's first market, where three companies will be launching devices under the new program this fall. Google executive Sundar Pichai showed off one such device during Google's I/O keynote address earlier Wednesday, a 4.5-inch handset with dual SIM card slots, a removable SD card, and an FM radio that is said to retail for less than $100.
"These are high-quality, affordable smartphones," Pichai said.
India is one of a number of emerging markets where the nearly three-year-old iPhone 4s, which sells for $450 before discounts and subsidies, continues to be a major sales driver for Apple. The handset is thought to have been responsible for as much as 25 percent of Apple's iPhone sales in the March quarter, bringing in some 10 million new users to Apple's ecosystem.
The iPhone 4s may not be Apple's only play in emerging markets soon, however. Many industry watchers believe that the plastic-backed iPhone 5c — which has already been brought to India, Brazil, China, and others in a lower-cost 8-gigabyte variant — will become the company's new low-end option following the introduction of the next-generation iPhone 6.