Inside iOS App Extensions: the Cloud Kit-savvy Photos future of Apple's iPhoto & Aperture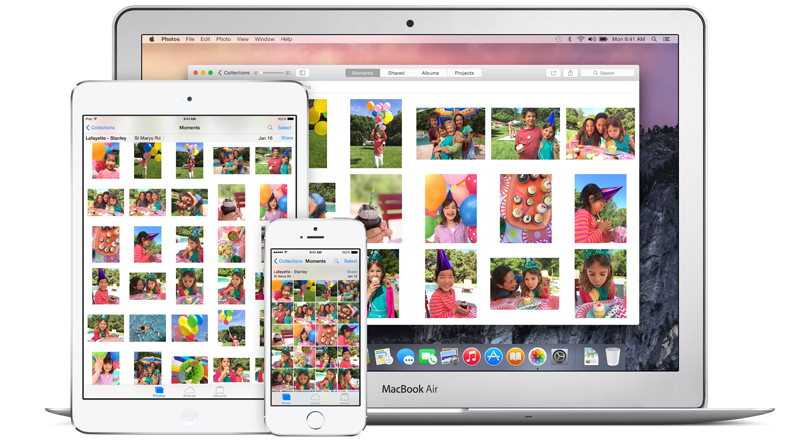 At WWDC, Apple unveiled a new App Extension architecture for both iOS 8 and OS X Yosemite. Here's how the new extensions will change photo editing on both platforms, where the new Photos app will replace today's iPhoto and Aperture.
Updating iPhoto & Aperture
In 2002, Apple released iPhoto for Mac, calling it "the 'missing link' in digital photography that makes it incredibly easy to save, organize and share digital photos." The software was one of Apple's first titles showcasing the new OS X operating system.
"Just as iTunes and iPod are changing the way people listen to music, iPhoto will change the way people manage and share their digital photos," Steve Jobs predicted. Over the next ten years, Apple regularly updated the title as users' needs changed.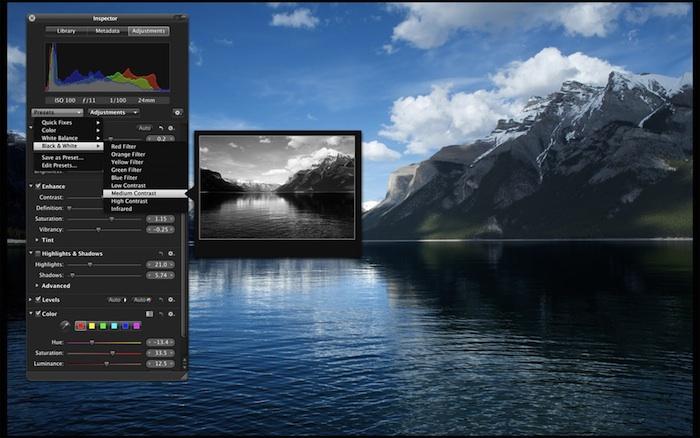 In 2005, Apple released Aperture (latest 3.0 version, above), a $499 "Pro App" version of iPhoto designed to address the demands of professional photographers. Aperture included support for RAW image import, editing and export, all featuring "non-destructive editing," where edits were recorded as deltas to the original image, rather than actually being applied to the original in a way that couldn't be undone.Apple now has three different photo apps that it is developing in parallel, each targeting a different class of user, but offering a widely overlapping set of features, albeit each implemented in a slightly different way
With the release of iPhone in 2007, the number of photos people were taking began to rapidly increase. In 2012, Apple launched a new $15 mobile version of iPhoto for iOS, designed to allow users to edit and adjust photos directly on their iPhone or iPad.
That means Apple now has three different photo apps that it is developing in parallel, each targeting a different class of user, but offering a widely overlapping set of features, albeit each implemented in a slightly different way.
Competition in the desktop Pro Apps category, largely from Adobe Lightroom, prompted Apple to discount Aperture multiple times to its current price of $80, one-sixth of what Apple had originally planned to charge.
Last fall, Apple also made iPhoto (along with iMovie and the iWork apps) a free app for both new Mac and iOS customers, largely as a way to embellish the value of its hardware offerings.
iOS 8 Photos announced with new Photo Editing Extension support
On top of its three different photography apps, Apple's iOS also has its own Photos app, which began as the iPhone's basic photo library. In iOS 7, Photos gained new photo sharing features, basic editing tools, non-destructive image filters, as well as new support for Collections to more effectively manage and navigate through large libraries of images.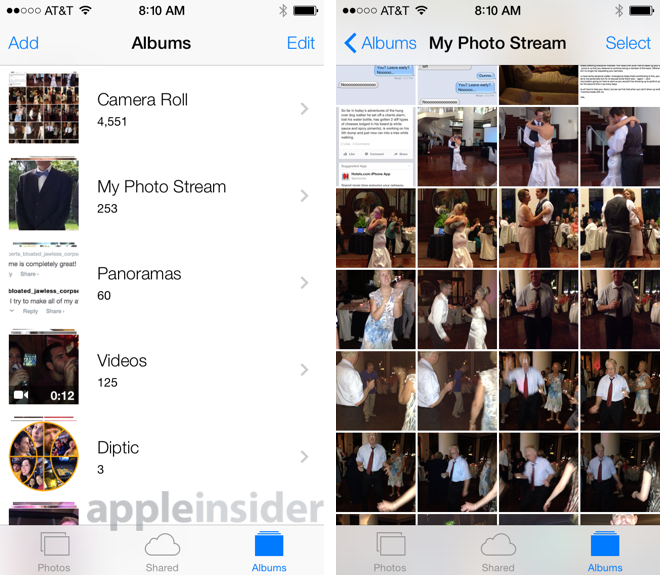 At last month's WWDC, Apple outlined its new App Extensions architecture with particular attention given to one specific application of Extensions: Photo Editing. Third party developers can now build Extensions that are designed to edit photos (or video) within the Photos app. This incorporates the non-destructive editing features introduced with Aperture, while at the same time effectively opening up the stock Filters feature iOS 7 introduced.
Support for Photo Editing Extensions means that developers don't have to try to woo users into switching to an entirely new app in order to try their imaging tools. Instead, after installing a new app that includes a Photo Editing Extension, any new editing capabilities the developer implements as an Extension will show up right within Photos, allowing users to integrate new features from third parties into the existing Photos app.
At the same time, the fact that Extensions are always bundled in an app means that developers can deploy new Extensions as an app update (allowing Instagram to make its filters available in Photos, for example), and sell Extensions as an additional feature for their existing apps.
Previous attempts to facilitate system-wide "app components," such as OpenDoc, failed in part because developers didn't have any way to effectively sell their bits of functionality to buyers. Apple's App Store can draw attention to, sell and distribute the new App Extensions in a way that users understand because they already know how apps work.
Apple's more recent efforts to deliver software component, from Dashboard Widgets to Safari Extensions, have been far less successful than the iOS and Mac App Stores because there was little commercial motivation to build them. The new Extensions in iOS 8 and OS X Yosemite are bundled with the apps they extend the functionality of, making them a marketable feature that helps to sell the app itself.
iOS Photos built on Cloud Kit
The new Extensions feature isn't the only major advance for Photos in iOS 8: Apple also dramatically improved upon its existing (and somewhat confusing) iCloud Photo Stream implementation. Currently, users can manually share photos as a "Shared Photo Stream," and iOS devices automatically share the last 1,000 photos taken to "My Photo Stream."
In either case, users can opt to download cloud-based photos to a Mac via iPhoto or Aperture for permanent archiving. Shared Photo Streams can be shared just among a user's devices or with other users, and don't go away. However, the main Photo Stream overflows at 1,000 pictures, meaning users have to manually manage photos they want to have accessible "in the cloud."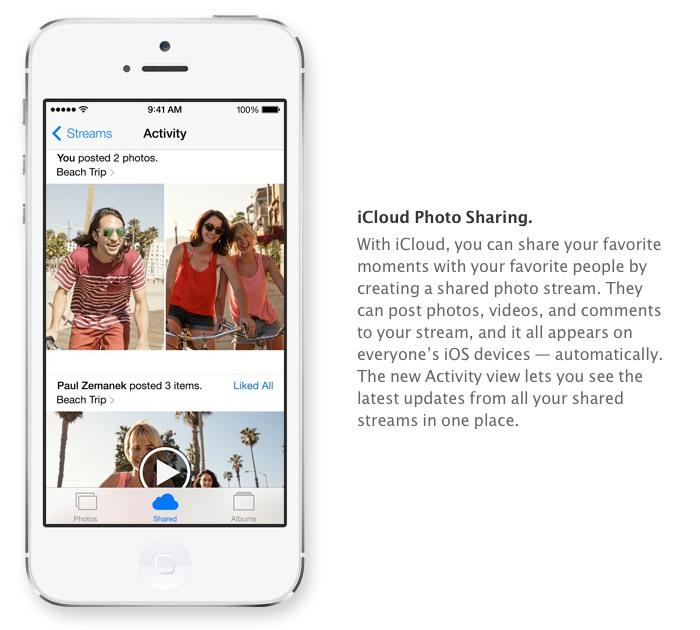 This can lead to confusion for some iOS users who run out of space and manually delete images under the impression that they are stored "in the cloud" when in fact those images will eventually go away unless the user understands how to save them to a desktop computer. For iOS 8, Apple has fixed all of this with Cloud Kit.
Cloud Kit is a new architecture that provides third party developers with all of the cloud infrastructure they need to build sophisticated web services. Developers build a local client app that talks to Apple's Cloud Kit, and Cloud Kit manages all the work in saving shared content on Apple's remote servers. As a demonstration of how Cloud Kit works, Apple built iOS 8's Photos app using Cloud Kit.
As a result, the new Photos gets rich support for storing images and video in iCloud. iOS 8 users will now have all their photos and videos saved in the cloud, and none will vanish after a specific period or threshold of 1,000 images.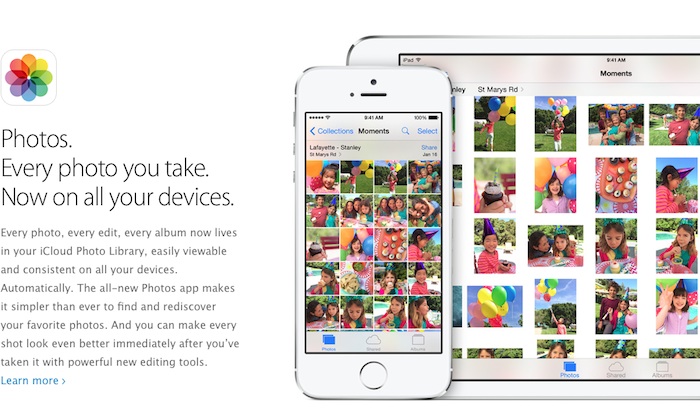 As Apple notes, "Once you've enabled it on your iOS devices, iCloud Photo Library automatically keeps all your photos and videos in iCloud, at full resolution in their original formats, including RAW files. You can access and download them anytime from your iPhone, iPad, iPod touch, or the web."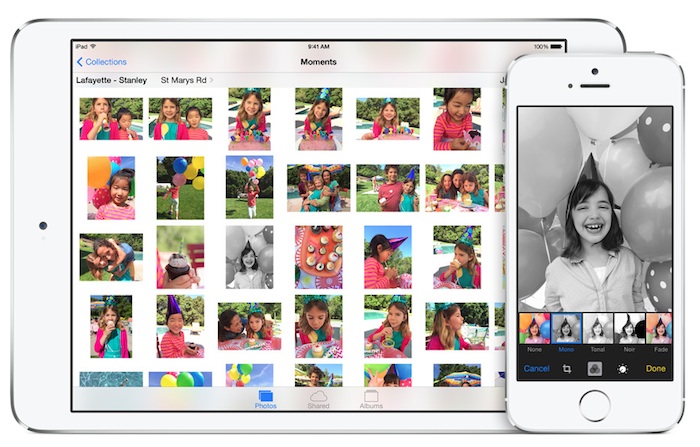 The space consumed by photos and videos consumes much of the available storage for many iOS users. Under the heading "Fill your library, not your device," Apple's iOS 8 preview explains, "iCloud Photo Library helps you make the most of the space available on your iOS device, so you can spend more time shooting pictures and less time managing them. It can automatically keep the original high-resolution photos and videos in iCloud and leave behind lightweight versions that are perfectly sized for each device. You get 5GB of iCloud storage free, and other storage plans will start at $0.99 per month."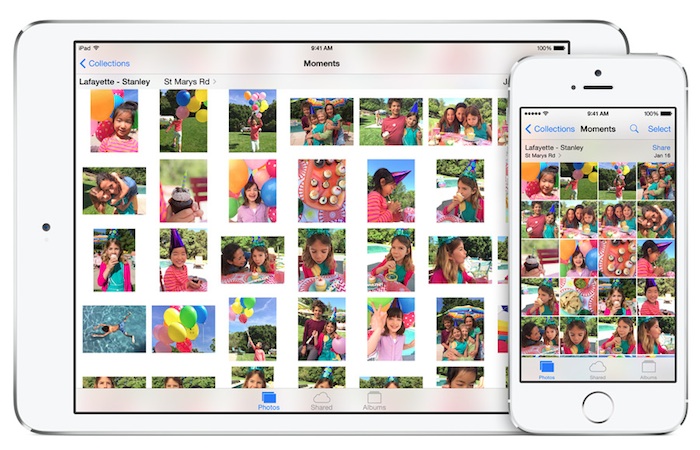 Apple has worked to make managing all those photos simple. "iCloud Photo Library keeps your photos and videos organized into Moments, Collections, and Years across all your devices — and even on the web. You can mark favorites, create albums, or drag photos into a custom order whether you're on your iPad, iPhone, or iPod touch."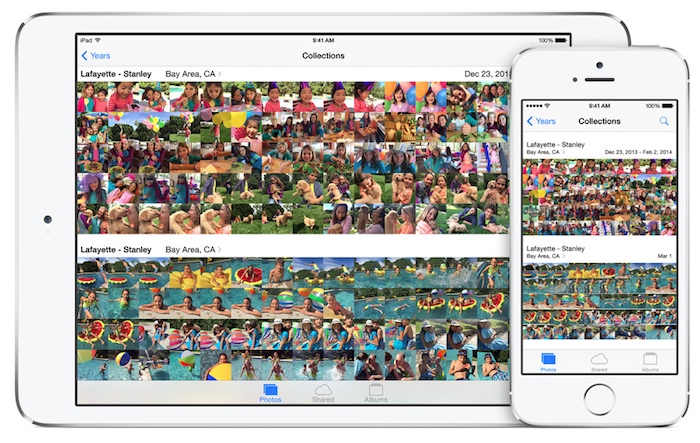 Even more importantly, all of the non-destructive edits users experiment within the new Photos (such as cropping, adding an image Filter, or applying a third party effect via a Photo Edition Extension) will be updated to iCloud as an undoable step. Additionally, those "steps" will be reflected across all of the users' devices. So if you adjust images on your iPad, your edited photos will also appear on your iPhone or for display on Apple TV.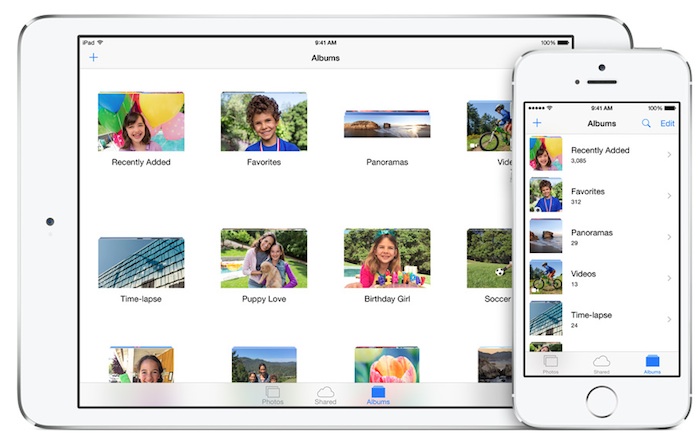 As the company states, "crop, straighten, enhance, or add filters to your pictures using Photos in iOS 8. Your changes are immediately uploaded to iCloud and visible on your other devices. And the edits are nondestructive, so you can always revert back to your original if you change your mind."
You can also search all of your photos for a specific shot by the time and date it was taken, by album name, or by the location it was captured (including shots taken nearby). In addition, Photos gains smart composition tools for cropping and straightening images, as well as smart image adjustment tools for adjusting lighting and color, with manual controls for making more precise edits.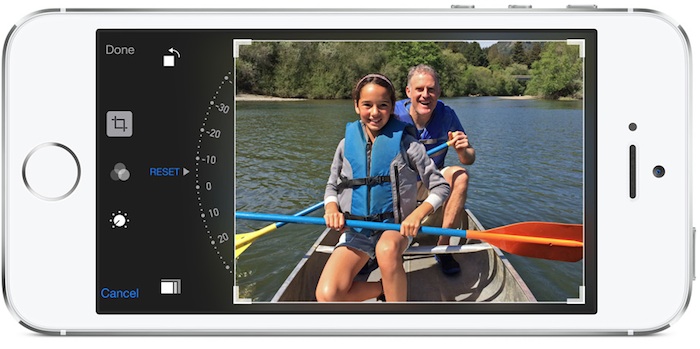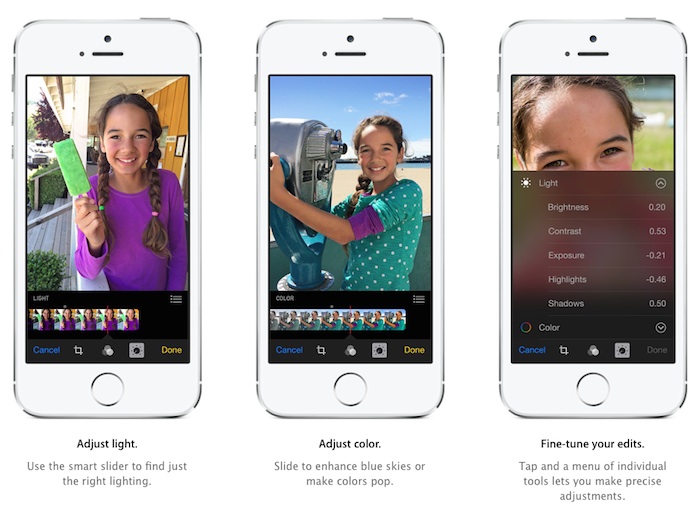 There is One More Thing...
Apple also revealed at WWDC that it would not only be incorporating the features of iPhoto into iOS 8 Photos (which makes much more sense than having users switch back and forth between two free apps), but that it would also be porting the advanced new Cloud Kit-based, Photo Editing Extension-savvy Photos to OS X Yosemite, effectively replacing the old iPhoto (which hasn't been radically overhauled since 2010) as the Mac's new bundled Photos app.
Apple recently clarified that Aperture, the Pro App version of iPhoto, would also be folded into the new OS X Photos (below bottom). One of the strongest features of Aperture was its APIs for extending image editing and export. The new Photos will inherit this extensibility via App Extensions, which work on both Macs and iOS devices.

The Photos feature consolidation will give Apple one cohesive app on two platforms (rather than two different apps across both of its platforms), allowing a shared foundation for advancing Photos in the future across both Macs and mobile iOS devices.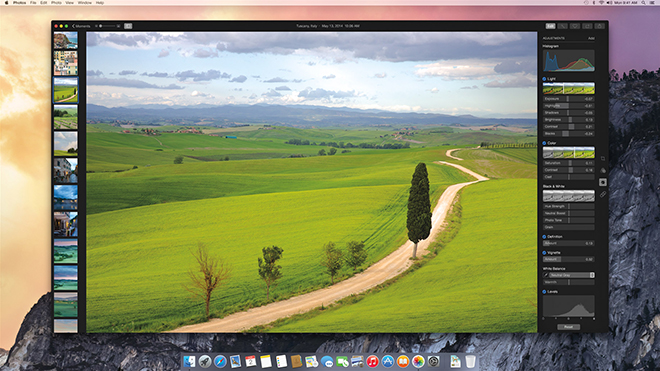 Just as was the case when Apple aligned iMovie and Final Cut Pro (and eventually discontinued Final Cut Express), the consolidation of iPhotos and Aperture into the new Photos will likely involve some temporary growing pains. The work required to finish Photos for iOS 8 has already pushed the release schedule for the new Mac Photos app into next spring.
But that's actually good news for iPhoto and Aperture users who have been waiting for a significant overhaul and modernization since 2010, without any real news of when that might happen. In the meantime, today's Aperture and iPhoto continue to work on OS X Mavericks.
As with virtually all of the company's software efforts, Apple's developing strategy for photo imaging and iCloud connectivity was an incremental evolution over many years. Many of the photo editing and sharing features that appeared in iOS 6 (Share Sheets) and iOS 7 (Filters) were simply being perfected within Apple's own software before being opened up to third party developers in iOS 8.
Photos aren't the only target for Apple's new Cloud Kit and App Extensions architecture, as the next segment in this series will explore.