Rumor: Photo shows 'iPhone 6' front panel with installed LCD, Touch ID brackets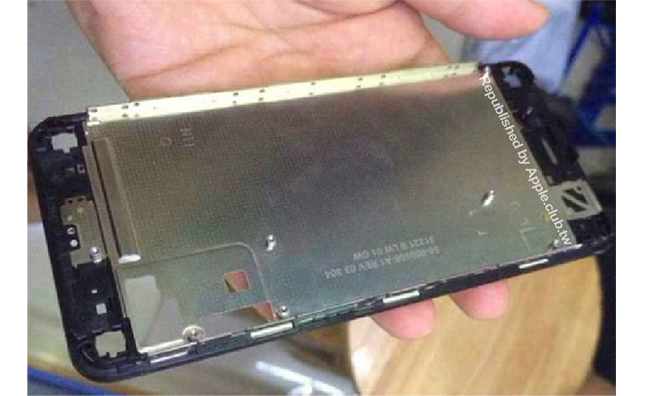 AppleInsider is supported by its audience and may earn commission as an Amazon Associate and affiliate partner on qualifying purchases. These affiliate partnerships do not influence our editorial content.
In a return of the blurry cam, a photo published to the Web on Thursday purports to show the front cover glass of Apple's next-generation "iPhone 6" with installed mounting hardware for the LCD and Touch ID home button.
Coming via Taiwanese website Apple.Club.Tw, the single photo purportedly shows a 4.7-inch display cover bound for Apple's next-generation iPhone 6. Unlike recent "leaks," Thursday's includes what appears to be metal bracket hardware and EMI shielding for the LCD and Touch ID home button.
It appears the part has no LCD installed, however, as the hand of the person holding it can be seen through the glass.
Compared to previous iPhone models like the current iPhone 5s, the supposed iPhone 6 version sports a modified home button mounting structure. Past iterations used a metal piece with a rounded bottom section to support the actuator, while the bracket seen in today's photo is slightly thinner and rectangular.
Also of note are LCD shielding cutouts seen toward the bottom left of the picture. Judging by their shape and size, it can be assumed that Apple modified the metal piece to make space for internal components like the loudspeaker, which resides in that same area on the iPhone 5s. The through-holes could be for an as-yet unannounced feature that requires unfettered access to the iPhone's front panel, though this is just speculation.
Apple is widely expected to launch a revamped iPhone with 4.7-inch and 5.5-inch screen sizes this fall. Early mockups show a slimmed down chassis with rounded edges and corners, yielding a "softer" look compared to the chamfered facade on the iPhone 5s.