Outgoing Apple board member Bill Campbell offers insight into company, Steve Jobs in interview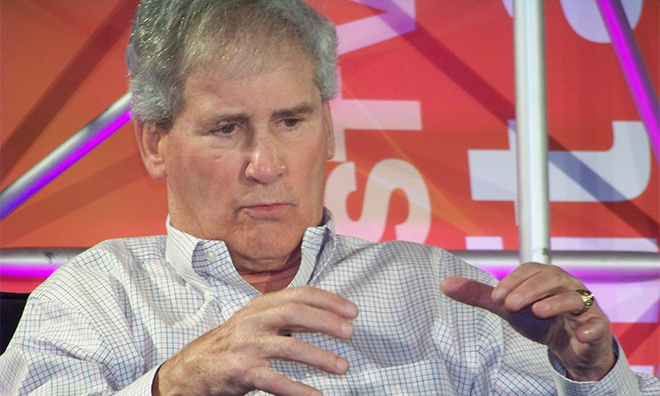 Following a Thursday announcement that Bill Campbell would retire as a member of Apple's board of directors, Fortune published an interview in which the Intuit chairman describes his time in Cupertino, relationship with cofounder Steve Jobs and "coach" to silicon valley elite.
In the short feature, Campbell, 73, tells Fortune about his 17-year tenure as Apple's longest-serving board member, a feat equalled only by company cofounders Jobs and Mike Markkula.
A year after returning to Apple in 1996, Jobs offered Campbell — who also left Apple in the mid-90s — the position. At the time, Campbell was CEO of Intuit, where he still serves as chairman of the board.
"He came by one day, and we sat on a bench by the pool and he said, 'I'd like you to join the Apple board,'" Campbell said of Jobs. As his neighbor in Palo Alto, Calif., Jobs would often visit Campbell unannounced. "The only time I've had a rush like that was when I was asked to be a trustee of Columbia University. I said, without hesitation, 'For sure.'"
Campbell's relationship with Jobs was close, with some industry analysts referring to the board member as "Steve's guy."
"I watched him emerge as a CEO in real time," Campbell says. "I had a continuum with him. I watched him when he was general manager of the Mac division and when he went off and started NeXT. I watched Steve go from being a creative entrepreneur to a guy who had to run a business."
During the early years as an Apple board member, Campbell began "coaching" up-and-coming tech executives like Amazon's Jeff Bezos, Google's Eric Schmidt and Twitter's Evan Williams, among others. He continues the practice today, but things got heated when Schmidt and Google became Apple's competiton.
"Steve would say, 'If you're helping them you're hurting me.' He would yell at me," Campbell said. "I'd say, 'I can't do HTML, come on. I'm just coaching them on how to run their company better.'"
As for Cook, Campbell refers to the current Apple chief as a "calm, thoughtful guy" who studies a topic before making a decision and moving on. Illustrating this warm nature, Campbell said Cook called on Thursday to ask if he could make a contribution in Campbell's honor. The donation will go somewhere related to Campbell's hometown in Pennsylvania.
"That's the way he thinks," Campbell said. "In his warm way of saying goodbye to me he's going to do something warm for me, make a contribution to my home town."
With Campbell stepping down, Apple has tapped BlackRock cofounder Susan Wagner fill the role, making her the second female board member behind Andrea Jung.