Apple's iPad reaches 78% North American tablet share as Amazon's Kindle Fire passes Samsung, Google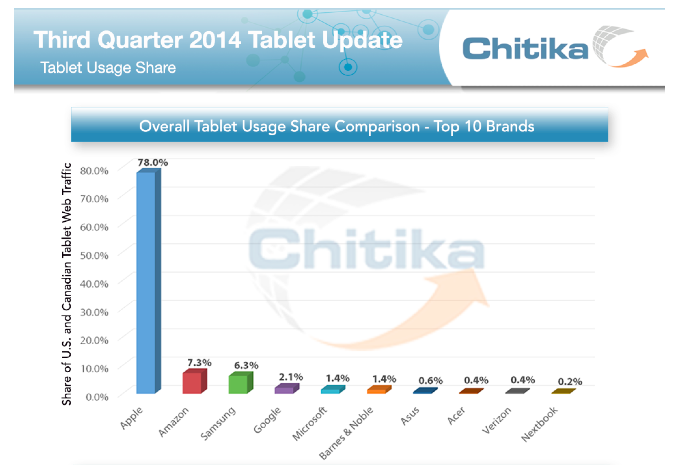 iPad is making gains in North American tablet web usage, reaching an 78 percent share in Apple's "first quarter-over-quarter usage share gain since June 2013," notes a new report by Chitika.
Chitika Insights published its latest figures on tablet web traffic for the U.S. and Canada, noting that Amazon's Kindle Fire, albeit with just one tenth the share of iPad, has moved into second place ahead of Samsung and Google, both of whom are selling 'pure Android' tablets.
"Since April 2014, the share of tablet Web traffic generated by North American Apple iPad and Kindle Fire users has increased by 0.8 and 1.2 percentage points, respectively," the firm stated.
"These represent the two largest quarter-over-quarter increases for any tablet brand, while Samsung's user base exhibited the largest share loss over the same timeframe, dropping two full percentage points."
Chitika cited sales of iOS devices in Costco (which resumed for the first time in June after more than a year) and new educational discounts across Apple's iPad lineup as "at least partially responsible" for driving Apple's gains.
Apple's iPad share is only down slightly from peak figures from last year, despite relentless discounting by competitors and frequent promotions that give tablets away. No other tablet maker is reporting profits of any kind from the sale of its tablets.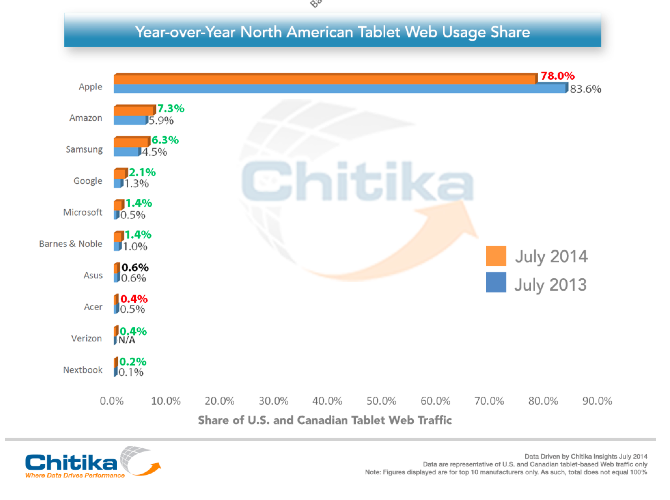 At the same time, Apple has improved upon its 76.1 percent holiday season tablet share reported by Chitika in January.
Apple recently announced a partnership with IBM to develop original and exclusive new iOS apps that IBM will use to drive iPhone and iPad sales to its enterprise customers, in a bid to further cement Apple's lead among business and government users.