RBC ups Apple price target to $110 in anticipation of 'busy fall' for iPhone & 'iWatch'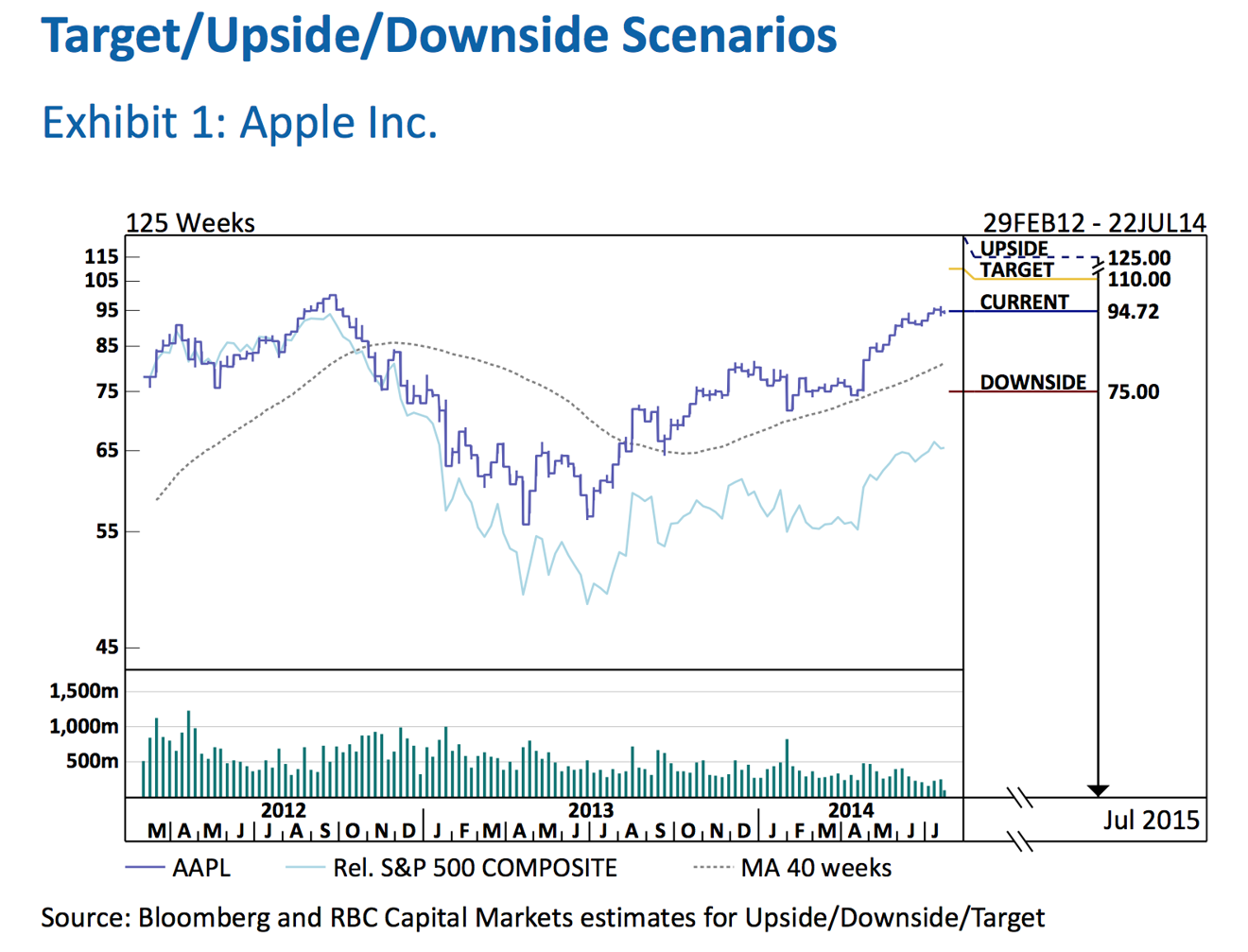 Following Apple's record earnings report this week, investment firm RBC Capital Markets raised its price target to $110, recommending that investors buy ahead of what is expected to be a "busy fall" for the iPhone maker.
Analyst Amit Daryanani issued a note to investors on Wednesday, a copy of which was provided to AppleInsider. In it, he has maintained his firm's "outperform" rating, and raised the target on AAPL stock from $100 to $110.
With $164 billion in cash amounting to a whopping $22 per share, Daryanani believes shares of Apple are undervalued at their current levels. And in terms of its product lineup, he sees continued growth opportunities in both the tablet and smartphone spaces.
Along with his new current target of $110, Daryanani has an "upside scenario" for Apple of $125 per share. He could see the company reaching that level if Apple were able to penetrate the low-end smartphone market while maintaining margins at or above the 40 percent level.
At its current sub-$100 price, Daryanani believes shares of Apple are at an attractive entry point for investors to benefit from the company's ability to sustain revenue and earnings-per-share growth through fiscal year 2015.
Among the catalysts he sees for Apple moving forward are ramp-up in availability of an anticipated "iPhone 6," new iPad models this fall, the potential for major new product lines such as a so-called "iWatch," and improvements in the company's capital allocation policy.
"We believe AAPL has multiple levers ahead of it that will drive further revenue acceleration," he wrote. "Notably, we believe emerging market penetration will remain a key and material revenue driver for the company over the next several years."
RBC joins a number of investment firms that have increased their price target on AAPL in recent weeks ahead of the lucrative fall shopping season. Other firms include UBS ($115), Barclays ($110), Evercore ($115), Morgan Stanley ($110), J.P. Morgan ($108), and Needham ($97).