Apple makes first OS X Yosemite public beta available on the Mac App Store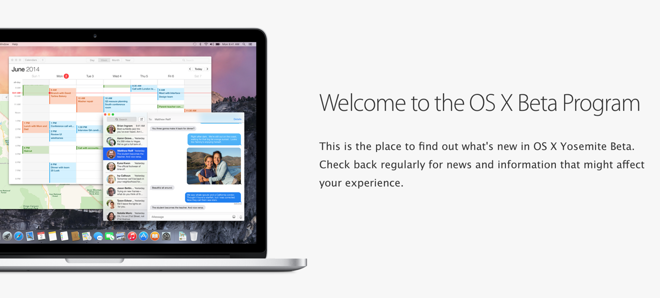 AppleInsider may earn an affiliate commission on purchases made through links on our site.
Members of Apple's OS X beta testing program can now use redemption codes to download the public beta of Yosemite, the next-generation Mac operating system set to debut this fall.
Once users have entered their code into the Mac App Store, they are supplied with Yosemite build 14A299I, which is one digit off from the fourth developer preview of OS X 10.10, labeled 14A298I, that was provided to developers on Monday. Apple has asked that public beta testers use their Mac as they normally would, and leave comments through the Feedback Assistant application if they experience any issues.
"The OS X Beta Program lets you test-drive pre-release versions of OS X Yosemite and provide feedback to help make it even better," Apple said. "Experience the new look of OS X, and try some of the new features and apps like the new Today view, Spotlight, Safari, and Messages."
Some features, such as continuity between iPhones, iPads and Macs, require portable devices running iOS 8, which is not available for public beta testing. Only members of the iOS Developer Program can access that pre-release software.
When installing the Yosemite beta, users will be asked whether they wish to upgrade their account to iCloud Drive. Apple has warned that doing so will prevent users from accessing iCloud Documents and Data on devices with earlier version of OS X and iOS.
As it is unreleased software, the first public beta of OS X Yosemite does come with some known issues. They include:
Safari may hang when playing certain Netflix content
iPhoto 9.5.1 and Aperture 9.5.1 are required, and can be updated through the Mac App Store
Editing in iPhoto may result in a black screen, while Photo Stream and iCloud Photo Sharing may not function properly
iCloud Drive may appear empty in Finder, but restarting will fix this
AirDrop may not show nearby Macs, and sending files may not work
Apple announced on Wednesday that the first public beta of OS X Yosemite would be arriving. Users can sign up for the OS X Beta Program at its official website and will be able to install, test and provide feedback.
The upgrade requires a Mac running OS X Mavericks, which is available for free on the Mac App Store. Apple also recommends installing the OS X Yosemite Beta on a secondary Mac, since the software is still in pre-release testing and may contain issues.
Apple first announced its public Beta Seed Program in April, opening its OS X beta testing process to all Mac users willing to participate. This year, users were able to test pre-release maintenance and security updates to OS X 10.9 Mavericks, but Thursday marks the first time that OS X 10.10 Yosemite is available to test officially for non-developers.