Leak reveals Sony's next iPhone-connected camera lens will feature swappable E-Mount, pop-up flash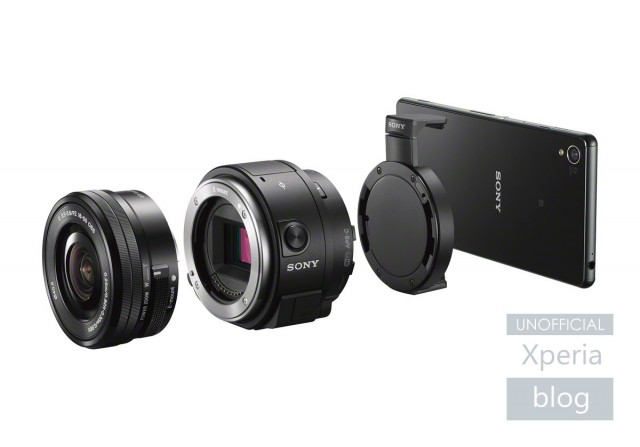 Sony's next-generation QX-series external camera accessory, which wirelessly connects to and is controlled by smartphones like Apple's iPhone, may include an E-Mount attachment for swapping lenses, as well as a dedicated flash.
Details on the unannounced product were revealed on Tuesday by Xperia Blog, which got its hands on promotional pictures that appear to show capabilities of the new hardware. Specifically, the images show a new QX wireless lens with a standard E-Mount attachment, which would allow users to swap out different lenses for various uses.
The unit also appears to have a pop-up flash, which could be an improvement over the built-in camera flash on Apple's iPhone and other handsets. The current Sony Playmemories app for iOS which controls the existing QX10 and QX100 lenses does not offer camera flash support when taking pictures.
Finally, the leak also suggests that the product will utilize an Exmor APC-S sensor. Aside from those changes, the unit appears to have a similar design to its predecessors, including a clip-on mount that allows it to be securely fastened to smartphones of varying sizes.
Naturally, the images show the new QX lens being used with a Sony smartphone — Â in this case, the unreleased Xperia Z3. But the previous QX lenses were compatible with Apple's iPhone, as well as Android handsets.
Sony's unique QX-series camera lenses connect to Apple's iPhone via Wi-Fi direct, and are then controlled by the handset. The iPhone also acts as a live viewfinder for the accessory, while the lens can be clipped to the back of the iPhone or even positioned and controlled remotely.
As noted in AppleInsider's QX10 and QX100 reviews, the hardware took excellent pictures that were a marked improvement from the built-in iPhone 5s camera, but focus control features left much to be desired, especially when controlling the device through the buggy PlayMemories Mobile app and attempting to maintain a connection over Wi-Fi Direct. Sony has gradually updated the devices since their release late last year, squashing bugs and adding new functionality such as shutter half-press to focus, and higher-resolution MP4 video recording.