Photos and video purportedly detail working 'iPhone 6,' hint at Passbook-based mobile payments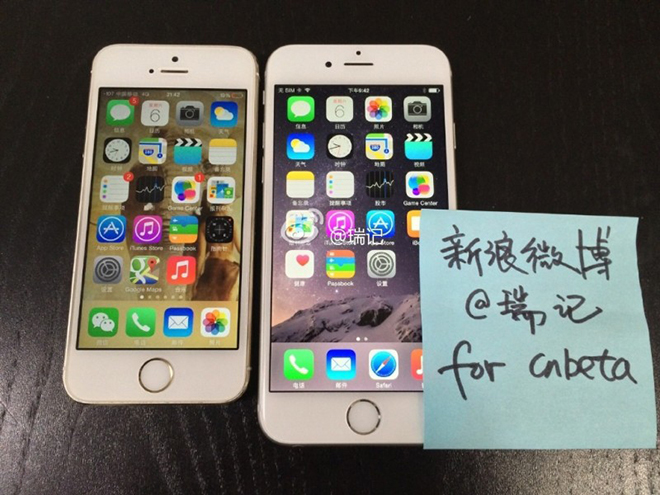 Two separate "leaks" out of China on Saturday supposedly show operational versions of Apple's next-generation iPhone, including images of what appears to be credit card or mobile payments support for Passbook.
A set of photos posted to Chinese website cnBeta.com, sourced from Weibo user "zzray, purportedly offers one of the first looks at a fully functional next-generation 4.7-inch iPhone.
Along with a side-by-side comparison with Apple's current iPhone 5s, the photo set includes shots of what looks to be an iOS 8 home screen scaled to 4.7-inches, App Store app and general phone information. Notably, the picture reveals a tweaked Passbook app icon that now includes what appears to be a graphical representation of a credit card.
Far from being conclusive evidence, the modified icon seems to suggest Apple's rumored mobile payments solution will be built in to the existing iOS infrastructure and may not be offered as a standalone "iWallet" app.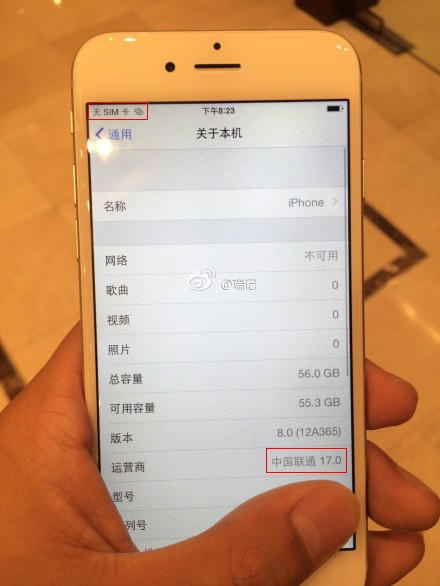 Although convincing, the photos contain inconsistencies suggesting the iPhone, or its operating system, is not a legitimate Apple product.
For example, the shot of the general settings page displays a "No SIM" icon in the top left corner, but shows "China Unicom 17.0" in the carrier information section, as highlighted above. Further, the user's thumb conveniently hides the handset's model and serial numbers, both key pieces of information needed to identify new hardware.
In addition to the photos, a video posted to Chinese video sharing website MiaoPai on Saturday supposedly shows a working iPhone 6 running through various apps and settings, including Apple's new Health app. The first and last clips demonstrate Touch ID, which seems to be just as quick as the current iPhone 5s model.
While their authenticity cannot be confirmed at this time, it should be noted that both "leaks" include the updated Passbook app icon, an asset not included with previous iOS 8 beta builds furnished to developers. As seen in the photo set, the phone is supposedly running build 12A365, a version heretofore unseen in the wild.
Apple is expected to announce this year's iPhone lineup at a special event on Sept. 9. Also rumored to be unveiled is an "iWatch" wearable device, though that product is anticipated to see shipment in 2015.
AppleInsider will provide live on-the-scene coverage of Tuesday's event and readers can get up to the minute updates through the official AppleInsider app.