PayPal questions Apple Pay security in new ad, uses iCloud celebrity photo debacle as ammunition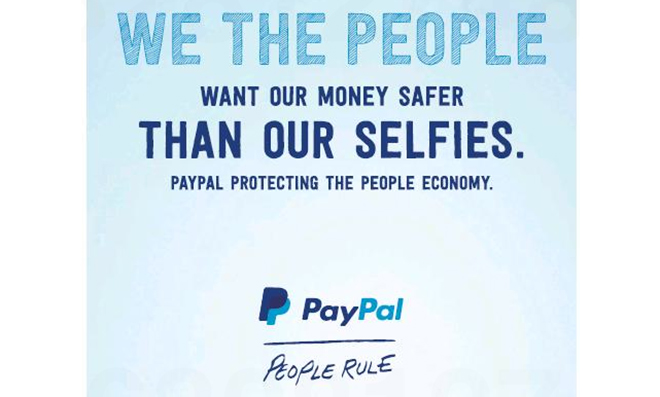 Ahead of Apple's Apple Pay release, mobile and online payments stalwart PayPal on Monday took out a full-page ad in The New York Times, warning consumers of Apple's security practices by alluding to the recent leak of photos stolen from celebrity iCloud accounts.
As seen above, the ad's tagline reads, "We the people want our money safer than our selfies. PayPal, protecting the people economy," specifically referencing the recent kerfuffle surrounding what Apple framed as a "targeted attack" against iCloud accounts belonging to celebrity iOS device users.
PandoDaily, which first reported on the ad, notes PayPal has ratcheted up criticism of Apple's first foray into payments since the system debuted at the iPhone 6 unveiling last week. Specifically, the company's senior director of communication Rob Skinner took a pot shot at issues with the event's live stream broadcast, saying, "Nobody can dispute Apple's strong track record, but payments is a difficult area. It's much more difficult to do payments than to keep a live stream working!"
Ironically, "PayPal company" Braintree recently announced support for Apple Pay processing with its v.zero SDK, which allows vendors to accept a variety of payment methods, from credit cards and debit cards to digital currency like Bitcoin. The firm also announced compatibility for PayPal One Touch mobile payments through the consumer-facing Venmo app.
Apple Pay is seen as a direct competitor to long-standing payments systems like PayPal. By joining NFC technology with the Touch ID fingerprint sensor and secure enclave found in the iPhone 6 and iPhone 6 Plus, Apple's payments system can securely store credit card information onboard for later use at supported point-of-sale terminals. Further, Apple Pay payments are tokenized, meaning no card holder information is transmitted in the process, only special crypto codes dynamically generated via the iPhone's secure enclave.
The iPhone 6 and 6 Plus will be the first devices to offer Apple Pay when they launch this Friday, but support for the payments solution has already been announced for Apple Watch, the company's wearable device due out in early 2015. In theory, the NFC-equipped watch will be able to make payments using older generation iPhone models like the iPhone 5s, though specific compatibility has yet to be announced.