Apple launches iOS 8 for iPhone & iPad with third-party keyboards, widgets, Continuity & more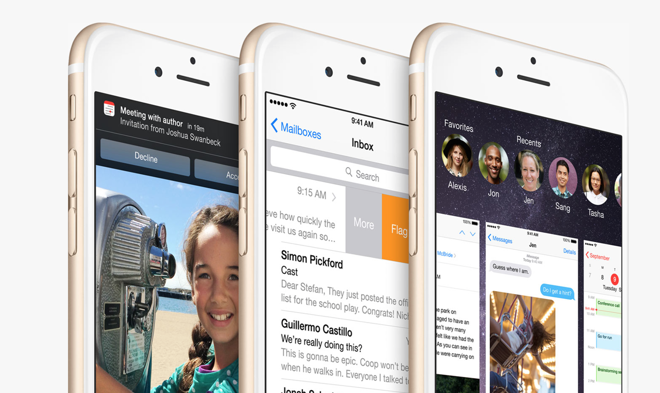 AppleInsider may earn an affiliate commission on purchases made through links on our site.
Apple's hotly anticipated free iOS 8 update for iPhone and iPad is now available to download, giving users access to a wide range of new features including third-party keyboard support, Notification Center widgets, extensions, Hey Siri hands-free voice activation, and much more.
The iOS 8.0 update can be accessed through the Settings application, under General and then Software Update. iOS 8 is compatible with the iPhone 4s and newer, iPad 2 and newer, all iPad mini models, and the fifth-generation iPod touch.
One of the key features of this year's update is what Apple calls Continuity, which allows users to seamlessly transition between devices and pick up where they left off. Continuity will allow users to answer iPhone calls from their iPad, or send standard SMS text messages when their iPad is connected to their iPhone.
Enabling Handoff takes this one step further, and allows users to begin composing an email, text message or other task on one device, only to continue on another. Continuity features, including Handoff, are included in iOS 8 and are coming to Macs later this year with the release of OS X Yosemite.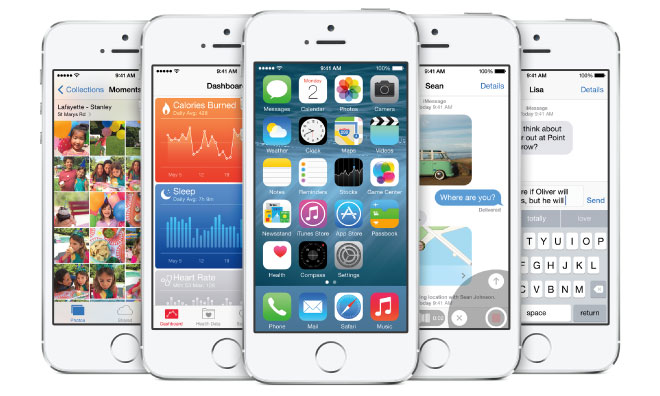 iOS 8 also opens up the ability for developers to create their own keyboards that users can install. Apple's own keyboard has also been enhanced with QuickType predictive word recommendations, which are displayed above the virtual keyboard as a user types.
Notification Center also gets overhauled in iOS 8 with new widgets that can be enabled and displayed as users wish. Both widgets and keyboards come included with applications that can be downloaded from the iOS App Store.
Apple has also granted developers the ability to secure apps with Touch ID fingerprint scans starting with iOS 8. And new extensions support will allow developers to also tap into other native iPhone apps and features, such as plug-ins for the Camera, photo editing, and the Safari Web browser.
Messages in iOS 8 adds a new Tap to Talk button allowing users to quickly share voice memos, and holding down on the camera icon will also allow quick photos and videos. Users can now share several photos and videos at once and easily browse through all of them within a conversation from one place.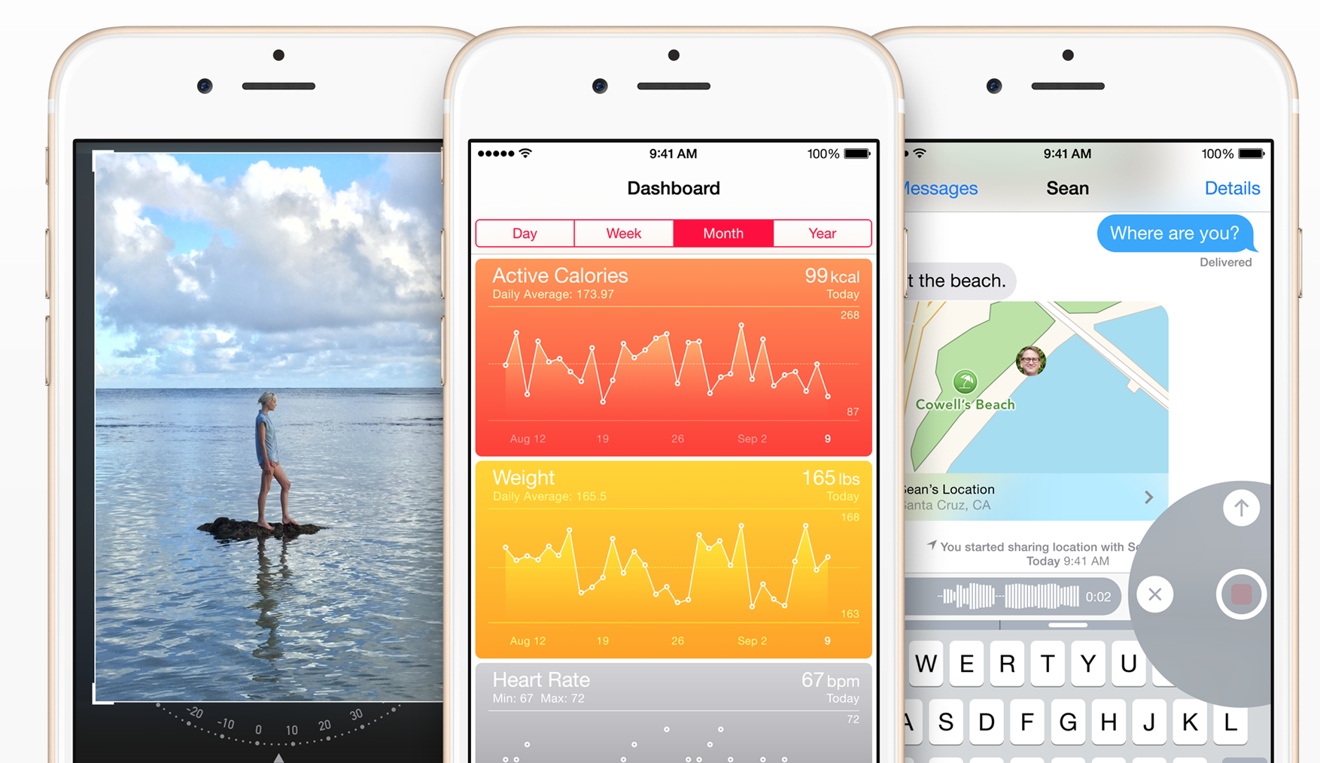 New group messaging features grant users the ability to add and remove contacts, and the option not to be disturbed or to leave a conversation entirely. With iOS 8, users can also choose to share their current location from within Messages for an hour, a day or longer.
The iOS 8 Photos app brings new editing tools, such as automatically straightening horizons, and smart editing tools that quickly adjust light and color with a swipe. Individual tools allow users to adjust exposure, brightness, contrast, highlights, shadows and more. Developers can tap into the same robust framework as the built-in Photos app using PhotoKit, and with extensibility APIs, can make their own filters and editing tools available to users within the Photos app.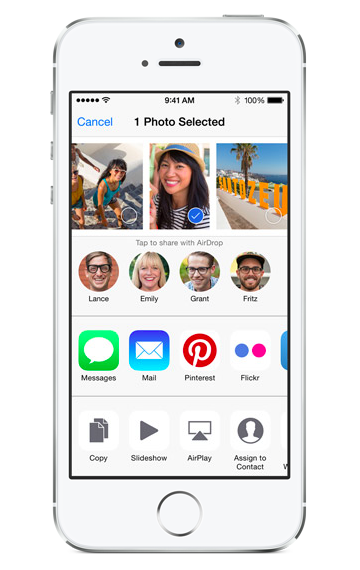 The new Health app found in iOS 8 gathers the information allowed from various health apps and fitness devices, and provides users with a clear and current overview in one place. HealthKit APIs offer developers the ability for health and fitness apps to communicate with each other.
With a user's permission, each app can use specific information from other apps to provide a more comprehensive way to manage your health and fitness. Users will be able to gather and monitor their own fitness metrics using apps such as MyFitnessPal, RunKeeper and Strava. Healthcare providers can now monitor the data their patients choose to share through apps such as Mayo Clinic or Epic's MyChart app that will be used by Duke Medicine and Stanford Children's Health/Stanford Medicine, among others.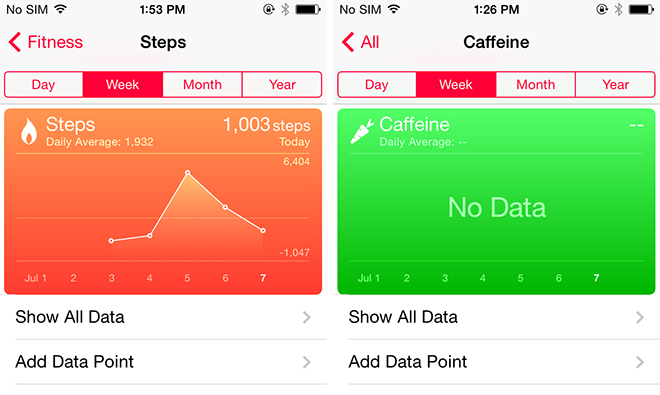 Also found in iOS 8 is HomeKit, which connects smart home devices to allow management and control of appliances such as lights, thermostats, door locks and garage doors. By delivering a common protocol, HomeKit securely pairs and allows easy control over individual or groups of devices throughout the house. With Siri integration, users can say, "Good morning," and have the lights turn on in specific rooms, the thermostat adjust the temperature and the garage door open.
Family Sharing with iOS 8 automatically keeps people connected by creating a shared family photo stream and calendar, and provides an option to locate family members and their devices. Family members can also now browse and download each other's eligible iTunes, iBooks or App Store purchases. Up to six family members can participate, each with their own Apple ID. Parents can create Apple IDs for children and, with Ask to Buy, require online parental permission for Family Sharing purchases.
An accompanying Apple TV update, also issued on Wednesday, adds Family Sharing capabilities to Apple's streaming set-top box.
iCloud Drive allows users to safely store, access and edit documents of any type. Make edits on one device and the most up-to-date version of your documents will be available across all devices, whether an iOS device, Mac, Windows PC or on www.icloud.com. iCloud Drive brings new collaboration between apps, providing seamless access and the ability to work on the same file across multiple apps.
Other features found in iOS 8 include:
Expanded security and management improvements for Enterprise, with new productivity features, including an extended level of data protection for key built-in apps and support for configurable Thread Notifications in Mail. Improvements in the way users are informed of how their devices are configured and managed further support the new mobilized workforce IT model.
Design enhancements that build off the stunning interface of iOS 7, bringing interactive notifications, quick access to key contacts, intelligent suggestions and the ability to quickly switch back and forth between the Inbox and Drafts in Mail.
Spotlight suggestions beyond what's on your device, including Wikipedia entries, places nearby and news articles.