Apple-IBM enterprise partnership the result of 8 months of wide-ranging talks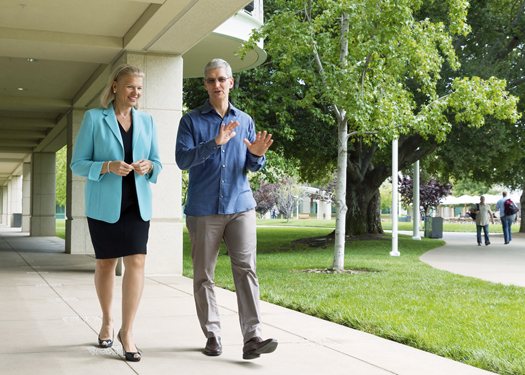 AppleInsider is supported by its audience and may earn commission as an Amazon Associate and affiliate partner on qualifying purchases. These affiliate partnerships do not influence our editorial content.
The landmark enterprise tie-up between Apple and 103-year-old technology behemoth IBM, announced earlier this year, was not the first collaboration that Apple CEO Tim Cook and IBM chief Ginni Rometty discussed, according to a new report.
Though there is no word on what alternative alliances were on the table, a recent Forbes profile of Rometty does shed some light on the process that led to July's announcement. The companies were in negotiations for some eight months before the deal was made public, with input from a number of divisions and business areas.
"We had tons of meetings, and the good thing about it was the meetings were pretty broad-based— our engineering teams, their engineering teams, our industry leaders, their marketing and developers— as they thought through with us how we were thinking about various apps," IBM global business executive Bridget van Kralingen said.
Rometty envisions the Apple partnership playing a significant role in the reinvention of IBM, which — Â with some 431,000 employees in 170 countries around the world — Â is facing numerous competitive threats from more nimble rivals.
"Most mobile devices are [used for] 60% email," Rometty told the publication. "That's why when we did this Apple partnership, we said we could reimagine work. These devices can do way more."
According to van Kralingen, IBM and Apple are already working with "several large customers" to co-develop iOS apps. Those customers remain nameless, though they are likely to represent a "who's who" of the world's enterprises — Â IBM has roots in 90 percent of the world's banks and 80 percent of the world's airlines, Forbes says, and is thought to touch some 70 percent of all enterprise data in one way or another.