Apple discontinues Mac mini server, limits storage options with latest hardware refresh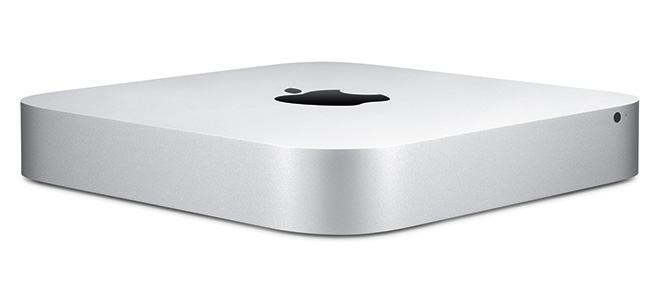 AppleInsider is supported by its audience and may earn commission as an Amazon Associate and affiliate partner on qualifying purchases. These affiliate partnerships do not influence our editorial content.
With Thursday's Mac mini refresh, the addition of new processors and a lower cost of entry seemingly comes at a price, as Apple no longer offers storage expansion options beyond 1TB and has axed the server model altogether.
Apple may have been referring to a Mac mini hardware refresh when it sent out invitations to today's special event, which read "It's been way too long," but with the upgraded internals comes the deprecation of a top-end server model with 2TB of HDD storage. The move, however, results in cost savings and perhaps greater flexibility for the end user.
While it may be added onto Apple's roster at a later date, the Mac mini with OS X Server option is currently not available to purchase through the Online Apple Store. The next version of OS X Server was recently seeded to developers for testing, but has yet to make it to the Mac App Store.
In any case, the latest Mac mini revision does not come in a configuration supporting 2TB of storage, an option previously available to the $999 Mac mini server. Instead, the top-of-the-line mini ships with a 1TB Fusion Drive standard, which can be swapped out with a 256GB SSD at no extra cost. The only other configurations available are a 512GB and 1TB SSDs, which command a $300 and $800 premium, respectively.
Apple did offer the current standard storage configurations as options on the outgoing model — and current low- and mid-tier models — with the 1TB Fusion Drive costing $250 extra and the 256GB SSD coming in at $300 over cost.
The change, first spotted by Czech blog LSA, could be a disappointment for those looking for a high-capacity standalone, but the decision is a clear sign as to where Apple plans to position the Mac mini in its desktop lineup.
With current data demands, 2TB of storage is not impressive when it comes to content or workstation servers, but is likely enough for everyday use. Lowering the price and upping standard storage puts the mini in range of regular consumers, while more powerful configurations fills the niche for customers looking for a decent standalone replacement.
Further, the new Mac mini's dual Thunderbolt 2 connections, four USB 3.0 ports, Wi-Fi 802.11ac and Gigabit ethernet are more than adequate to attach and serve fast external storage if a user so chooses. Couple that with low-priced OS X Server software and the configurations on offer start to look like a value. In some ways, Apple's new Mac mini is the most cost-effective and flexible to date.