Apple posts iPad Air 2, Retina iMac and 'Evolution of Retina' promo videos online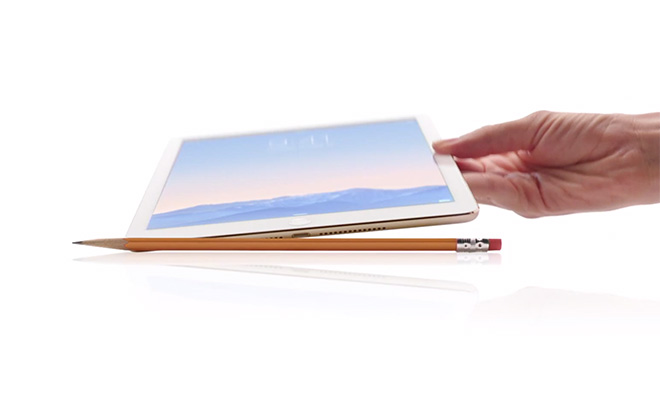 Following Thursday's big reveal, Apple posted a trio of promotional videos taken from the product launch event to its YouTube page, touting the new iPad Air 2 and iMac with 5K Retina display.
The first snippet is a short iPad Air 2 teaser first shown just before Apple CEO Tim Cook unveiled the tablet onstage at the company's media event in Cupertino, Calif.
Playing off the original iPad Air reveal last year, in which the tablet was touted as being thinner than a No. 2 pencil, the iPad Air 2 ad starts out with a pencil, sitting alone in an all white room. The iPad Air 2 is presumably hiding behind the pencil, but to hammer home the new iPad's ultra-thin 6.1mm height, a blue laser starts trimming the pencil down to size.
The tablet is finally revealed in gold, a new color option drawn from Apple's iPhone lineup.
A second video highlights the new iMac with Retina display, which Apple announced as having a 27-inch 5,120-by-2,880 pixel panel. That comes out to a total of 14.6 million pixels.
Apple SVP of Hardware Engineering Dan Riccio narrates the two and a half minute clip, running through the technological breakthroughs required to fit such a high-density display into an all-in-one desktop that at its thinnest edge is only 5mm thick.
For example, Apple employs a bespoke timing controller to feed the massive pixel array, while new oxide TFT and Organic Passivation tech was developed to reduce cross-talk and boost contrast. A new power-efficient LED backlight module offers uniform brightness across the large-format panel.
The film also includes commentary from photographer Bryce Duffy, who touts the iMac's crisp, detailed and color-accurate picture.
Finally, a short spot titled "The Evolution of Retina" takes viewers on a journey through Apple's current product lines sporting the branded high-resolution screens. Starting with the iPhone 6 and 6 Plus, a close-up video of a growing flower is shown across a variety of devices, including the latest iPad Air 2 and iPad mini 3 with Touch ID, the MacBook Pro with Retina display and finishing with the Retina iMac. The clip ends with the tagline "Retina in full bloom."