Teardown of 27" Retina iMac reveals identical parts, construction as last-gen model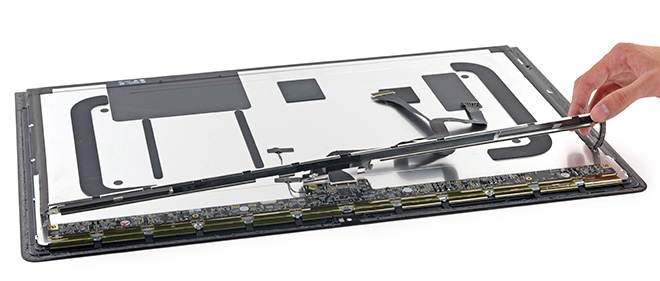 AppleInsider may earn an affiliate commission on purchases made through links on our site.
The team at iFixit recently completed a teardown of Apple's new iMac with 5K Retina display and found the all-in-one to be nearly identical to previous models, save for the ultra high-resolution screen.
Images of the teardown process were posted to iFixit's website on Friday, showing the internal components and overall construction of Apple's latest iMac are virtually the same as last year's revision.
The one big change, as made obvious by the computer's name, is the 27-inch 5,120-by-2,880 pixel 5K Retina panel that Apple managed to squeeze into the slim aluminum chassis. In this case, the screen was made by LG, a known Apple supplier that provides Retina displays for other products like the Retina MacBook Pro and certain iPad models.
When Apple revealed the new iMac on Thursday, it touted a slew of new technologies created just for the huge Retina display, including a specialized timing controller iFixit found attached to a long, thin circuit board running the length of the panel. Other chips found on the display board:
Texas Instruments NH245 8-Bit Dual-Supply Bus Transceiver
Texas Instruments BUF16821 Programmable Gamma-Voltage Generator and Vcom Calibrator
Parade Technologies DP665 LCD Timing Controller (possibly an Apple modified version of the DP663 LCD Timing Controller)
Texas Instruments TPS65270 Monolithic Dual Synchronous Buck Regulator
Texas Instruments TPS65168 High Resolution Fully Programmable LCD Bias IC for TV
The data cable running between the logic board and display is wider in the Retina iMac to support additional bandwidth requirements. The remainder of the build is almost exactly the same as the non-Retina 27-inch iMac.
Apple did take the opportunity to refresh the iMac's processor and GPU, however, and the new models come with next-generation Intel Core i5 and i7 processors, as well as AMD Radeon 290X and 295X graphics units.
The new iMac with Retina 5K display is currently available for order from the Online Apple Store and MacMall.com ($2,494.00), with MacMall offering the added benefit of only collecting sales tax in a handful of states. More resellers are expected to start carrying the product over the next few weeks and those in the market can check AppleInsider's Price Guides for the latest stock information.