Full video of Jony Ive's Vanity Fair interview posted online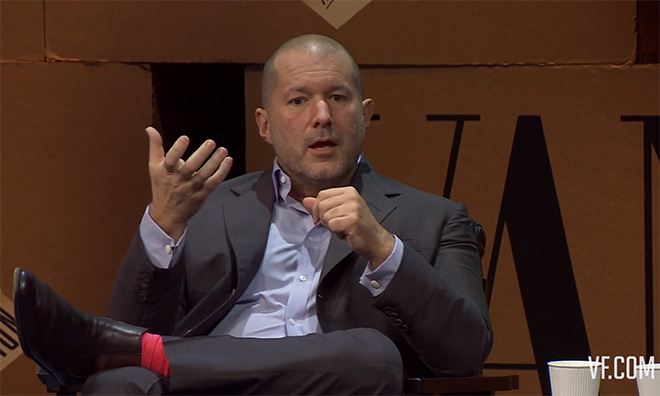 Vanity Fair on Friday posted to YouTube the full 25-minute video of an interview with Apple SVP of Design Jony Ive, who discussed a range of topics at the publication's New Establishment Summit, including his beginnings at Apple and "copycat" devices.
The video was filmed during Ive's panel last week, which had the design guru sit down for a rare one-on-one interview with Vanity Fair editor Graydon Carter.
As previously reported, much of the talk revolved around Ive's time at Apple, including how the company chose him to design early PowerBook models, how he conducts day-to-day operations and his thoughts on cofounder Steve Jobs.
Also discussed were Apple's recent product unveilings, the iPhone 6 and 6 Plus and the Apple Watch. Ive said that he's always been interested in the history of watches, seeing the wrist as prime real estate for technology as it keeps vital information available at a glance.
During a question and answer session following the formal interview, Ive was asked if he felt flattered that Chinese phone maker Xiaomi's handset designs are aesthetically similar to certain iPhone models. At the time, much was made of Ive's response, with some publications reporting that he "slammed" the firm's design tactics. But the full video reveals otherwise.
"I'll sound a little bit harsh, and perhaps a little bit bitter, because I don't see it as flattery," Ive said. "I'm just talking about this issue in general — I see it as theft."
In a subsequent interview, The Economic Times asked Xiaomi CEO Hugo Barra for his thoughts on Ive's comments, shortening the quote to, "I don't see it as flattery. I see it as theft." Barra said that, although he had not seen the Vanity Fair talk and is aware of the design language comparisons, he doubted Ive would make such a pointed remark.
"I would expect Jony to be even more aggressive than he was in answering this question," Barra said. "Jony is one of the classiest people in the industry. I would bet you anything that he did not say the word Xiaomi in his answer. He is speaking generally about how he feels which is what I would expect from any world-class designer."