Apple's Jony Ive talks iPhone, Apple Watch and copycat devices in Vanity Fair interview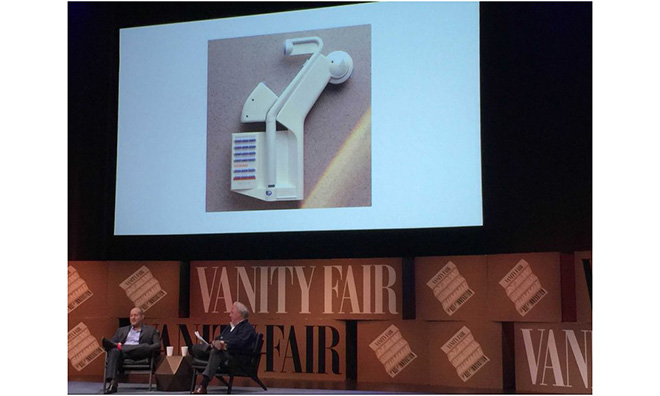 AppleInsider is supported by its audience and may earn commission as an Amazon Associate and affiliate partner on qualifying purchases. These affiliate partnerships do not influence our editorial content.
During a panel at Vanity Fair's New Establishment Summit, Apple SVP of Design Jony Ive offered up stories about his time at the company in a rare one-on-one interview, at one point revealing that he does not see copying as flattery, but theft.
Ive shared his thoughts on design and the tech industry with Vanity Fair editor Graydon Carter, with topics ranging from the iPhone 6 and Apple Watch to "copycat" devices, reports Business Insider.
While much of the talk covered details about Ive's routine at Apple, one audience member asked a pointed question regarding smartphone maker Xiaomi, which sometimes references itself as "the Apple of China." Ive's response was clear and telling.
"I don't see it as flattery. I see it as theft," Ive said. "When you're doing something for the first time and you don't know it's going to work. I have to be honest the last thing I think is 'Oh, that is flattering. All those weekends I could've been home with my family.' I think it's theft and lazy. I don't think it's OK at all."
On his time at Apple, the design guru said the company selected him during a world tour, forcing him to choose between working on the PowerBook or designing bathroom hardware at a UK ceramics firm. Ive commented on how different the two projects were, saying he ultimately opted for Apple.
"A beautiful product that doesn't work is ugly. The best things we've done are harmonious. I think design is the whole thing. Beauty is in that it works." - Apple SVP of Design Jony IveIve works with a small design team of around 16 or 17 people that meets three or four times a week.
When asked about the current iPhone 6 and why it took Apple so long to come out with a large-format handset, Ive said prototypes were made "years ago," but the result was clunky and not suitable for Apple's high standards.
"Years ago we realized this is going to be important that we have larger screens but we need to do a lot of things to make it a compelling product," he said.
Discussing Apple Watch, Ive said he views the product as a move away from consumer electronics, something hinted at by Apple's marketing of the device as fashion accessory. Noting a long interest in watches, Ive pointed out that the wrist is a "natural place for technology to end up" as it provides quick access to information at a glance.
As for working with Steve Jobs, Ive reiterated that many who interacted with the Apple cofounder misinterpreted his nature as brusque, while the truth was something else entirely.
"I remember talking to Steve Jobs and asked why he was perceived as harsh," Ive said. "And I said couldn't we be more moderate? And he said why? And I said because I care about the team. And he said, 'No Jony, you're just really vain. You just want people to like you. I'm surprised at you, because I thought you really held the work up as the most important and not how you are perceived by people.' People misunderstand Steve because he was so focused."
Finally, Ive was asked about the balancing function and design, one of the most important tenets of the industrial design trade.
"A beautiful product that doesn't work is ugly," Ive said. "The best things we've done are harmonious. I think design is the whole thing. Beauty is in that it works."
Along with the above, Vanity Fair's posted a number of memorable quotes from the talk to its Twitter account.