IBM's first enterprise apps for iPad to launch next month as iPad reaches 90 percent tablet share in U.S education

Apple isn't just waiting around for iPad sales to pick up speed. In its earnings conference call with analysts, Apple's chief executive Tim Cook stated the first wave of IBM's Mobile First apps targeting businesses would arrive next month, while separately noting that iPad now accounted for 90 percent of U.S. tablets used in education.
"We forged a landmark partnership with IBM to provide a new generation of Mobile enterprise applications designed with our products' legendary ease of use and backed by IBM's cloud services and data analytics," Tim Cook stated in his prepared opening remarks.
"Our partnership aims to redefine the way work gets done, address key industry mobility challenges, and spark true mobile led business change. Developer teams have been working closely to develop the first wave of Mobile First solutions and these solutions will be ready for customers beginning next month, across six sectors: banking, government, insurance, retail, travel and transportation, and telecommunications."
In the same breath, Cook noted, "we've brought tremendous new talent and technology into Apple through 20 acquisitions in fiscal 2014, including seven in the September quarter." "Hundreds of corporations around the world have expressed interest in Mobile First solutions. We are actively working with over 50 of them to become foundation clients for Mobile First solutions in their industries." - Apple CFO Luca Maestri
Even before IBM's first Mobile First apps launch, Maestri noted that "we continue to see strong momentum in enterprise for iPad. Organizations around the world continue to deploy, manage and develop amazing in-house apps for iPad."
Maestri cited pharmaceuticals firm Sanofi, which he reported has over 25,000 iPads in use and over 450 in-house apps that it uses to sell products to doctors and healthcare providers.
He also noted premium eyewear designer Luxottica, which has deployed over 10,000 iPads for use in retail to help size and fit products for customers.
Maestri added that since the announcement of Apple's partnership with IBM, "hundreds of corporations around the world have expressed interest in Mobile First solutions. We are actively working with over 50 of them to become foundation clients for Mobile First solutions in their industries."
The number of registered enterprise developers was also reported to be up 39 percent year over year, nearly double the overall 20 percent growth rate among new third party developers that Apple reported for the year.
Apple narrowly beat analyst expectations of iPad sales (below) in the September quarter, prior to introducing its new iPad Air 2 and iPad mini 3 earlier this month.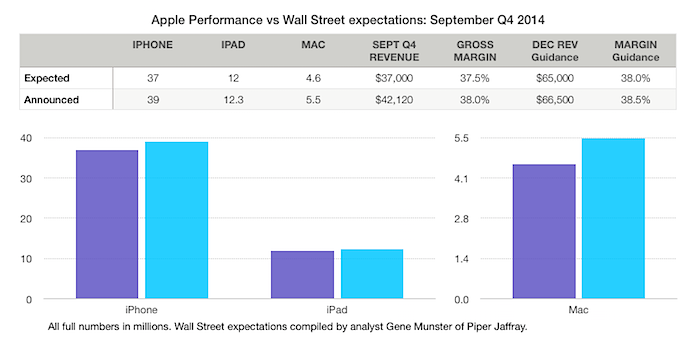 iPad & Macs in education
Maestri also stated that "iPad continues to lead the U.S. education tablet market with 90 percent share based on the latest data from IDC." In the September quarter, he noted that the St. Paul, MN school district had purchased over 22,000 iPad Airs and 5,000 iPad minis in the first phase of its "personalized learning through technology" plan that will ultimately equip each student with an iPad.
However, iPad sales aren't just replacing Macs, particularly in higher education. Maestri said that Mac were sales up 21 percent overall, with "double digit growth in most markets around the world" and particularly impressive performance in emerging markets," where Mac sales were up 46 percent.
"These results were truly remarkable given the retraction in the global PC market. We've now gained market share in 33 of the last 34 quarters."
Cook also noted that Macs had an "absolutely a blow away quarter," adding that "the back to school season voted and the Mac won. It carried the day. I'm really proud of that, and of the Mac team [...] Being up 21 percent in a market that is shrinking, it just doesn't get better than that."
IDC reported Mac estimates earlier this month that were more than 10 percent lower than Apple's actual Mac sales, and cited growth of just 8.9 percent (versus Apple's actual Mac growth of 21 percent).
iPad as a third platform
iPad appears to have achieved the "third platform" goal that Apple's Steve Jobs described for the new tablet almost five years ago. Rather than an unsustainable bubble of hyper-growth that Acer's netbooks achieved in 2009 at the painful expense of eating into conventional PC sales and profit margins, Apple's iPad has grown into a business larger in both units and revenues than the Mac (although in this quarter, Mac revenues exceeded those of iPad).
And rather than cannibalizing its Mac sales to achieve this, iPads appear to have helped Apple to expand its Mac sales via a halo effect, attracting new customers to OS X via iOS, a practice Apple is doubling down on with new Continuity features in its upcoming OS releases.
During the earnings call, Cook specifically cited Continuity as a feature that "only Apple" can deliver, making it more attractive for Apple customers to buy other products from the company as well.