Bank of America promotes iPhone 6 in new TV ads for Apple Pay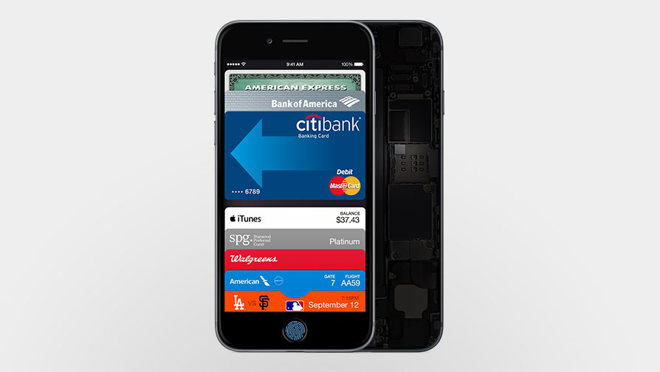 AppleInsider may earn an affiliate commission on purchases made through links on our site.
Apple's blockbuster sales of iPhone 6 are continuing to benefit from Apple Pay commercials produced by banks, merchants and card processors. The latest spot from Bank of America calls Apple Pay "the new, easy, secure, smart way to pay with a simple touch."
"Before she bought something for her husband... something for Buster... and a little something for herself, Nancy grabbed her iPhone 6 so she could pay with her Bank of America card using Apple Pay," the spot's voiceover states.
"The new, easy, secure, smart way to pay with a simple touch. That's the convenience of innovative connections. That's Bank of America."
The spot follows a series of television, newspaper, billboard, email and online ads by Chase, Citibank, Wells Fargo, Mastercard, promoting Apple's Touch ID fingerprint-secured, NFC point of payment service, which launched exclusive to iPhone 6 and iPhone 6 Plus.
This spring, Apple Watch will also enable iPhone 5, 5c and 5s users to make in store Apple Pay purchases after pairing their phone to the wrist-worn new device.
Massive free inter-promotion has yet to go global, competitors already terrified
Last September, PayPal launched a bizarre ad campaign right out of the gate that appeared to malign Apple's security, implying that customers couldn't trust Apple Pay.
More recently however, PayPal's payment processing subsidiary Braintree has installed prominent billboards promoting its support for handling Apple Pay transactions.