Apple's CarPlay coming to Volkswagen models later this year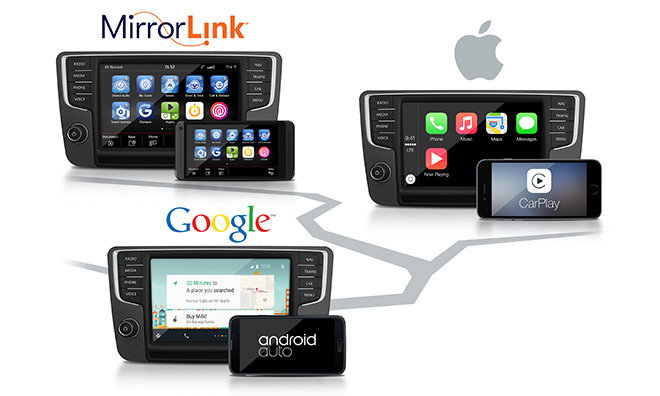 German auto giant Volkswagen on Monday unveiled plans to incorporate Apple's CarPlay in next-generation infotainment systems, saying the iOS-derived feature will come included with select models this year.
For VW, the CarPlay initiative will see introduction alongside MirrorLink, the company's in-house solution for integrating smartphone apps and layouts offered by various handset makers, and Android Auto. All three systems are to run on VW's second generation modular infotainment platform (MIB II) when it launches in late 2015.
Volkswagen has yet to disclose system pricing or an exact release date for MIB II and CarPlay, but the auto maker plans to make the technology available in both Europe and the U.S.
When Apple introduced CarPlay last March as a rebranding of the "iOS in the Car" project, Volkswagen was noticeably absent from an initial list of supporting car manufacturers that included Ferrari, Mercedes-Benz, Volvo, BMW, Ford, General Motors, Honda, Hyundai Motor Company, Jaguar, Land Rover, Kia, Mitsubishi, Nissan, PSA Peugeot Citron, Subaru, Suzuki and Toyota.
Apple's much-anticipated in-car iOS solution grants users access to iPhone functions like music, navigation, messages, phone and more via specialized physical and onscreen car controls. Looking to minimize distractions, CarPlay features a steering wheel-mounted Siri button for voice control, large iOS-styled icons and app integration.
As CarPlay-enabled vehicles are just now rolling off assembly lines, aftermarket solutions like Pioneer's AppRadio 4 and Alpine's iLX-007 head units have gained in popularity, though the system has yet to gain significant traction with car buyers and owners.