Misreported Apple patent reassignment supposedly induces GoPro stock price decline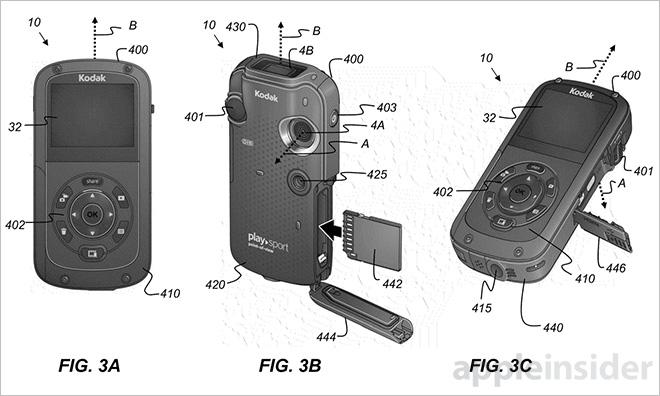 The U.S. Patent and Trademark Office on Tuesday reassigned to Apple a Kodak patent covering a mobile remote control camera system, reports of which supposedly catalyzed a 12-percent drop in shares of action cam maker GoPro.
Apple's newly reassigned U.S. Patent No. 8,934,045 illustrates a portable digital camera controllable via a wrist-worn remote. Taken at face value, the document appears to hint at Apple's ambitions to enter the action cam market, but a quick look at the patent's history reveals a slightly different story.
The invention is credited to Keith Stoll Karn, Marc Krolczyk and Kazuhiro Joza, who reassigned the patent to Kodak in 2012. Subsequently published as an application in 2013, Kodak's fairly exhaustive "Digital camera system having remote control" filing details a ruggedized digital camera and accompanying wrist-worn remote control, as well as underwater capabilities, stabilization technology and mounting options for helmets and bike handlebars. Language also refers to contemporary GoPro products by name, citing the devices as background information.
A spurious report from Patently Apple claimed the property as an in-house Apple invention that "appears to now incorporate intellectual property from Kodak." A side-by-side comparison of the application as assigned to Kodak and the patent as granted to Apple shows only minor changes, with nearly all alterations limited to housekeeping variations made to bring the document's citations up to date.
Coverage from mainstream media sources, Reuters, The Wall Street Journal, perpetuated the disingenuous report by incorrectly citing the patent as "filed by [Apple] in 2012." In reality, the patent was acquired by Kodak shortly before being sold to Apple.
Apple snapped up the property in a cache of Kodak patents purchased in 2012. The embattled film camera giant auctioned off its IP to two consortiums led by Apple and Google for a combined sale price of $525 million.
The misrepresentation of Apple's assigned remote control camera patent was reportedly a factor in Tuesday's precipitous GoPro stock decline, shares of which fell $6.91 or 12.17 percent at the end of trading on Tuesday.
Apple obviously purchased the Kodak patent for a reason, but the act doesn't necessarily mean the company is working on a GoPro competitor. If Apple is seriously considering a foray into the action cam market, a patented solution would almost assuredly come from within Cupertino. As it stands, the Kodak property could be used toward technology related to existing products, perhaps as a functional augmentation to the upcoming Apple Watch.
Still, today's events serve to illustrate Apple's considerable sway as a market disruptor, with even the slightest shade of rumor causing significant turbulence to leaders in other tech sectors.