China responsible for massive Apple revenue growth, reaches $16.1B in Q1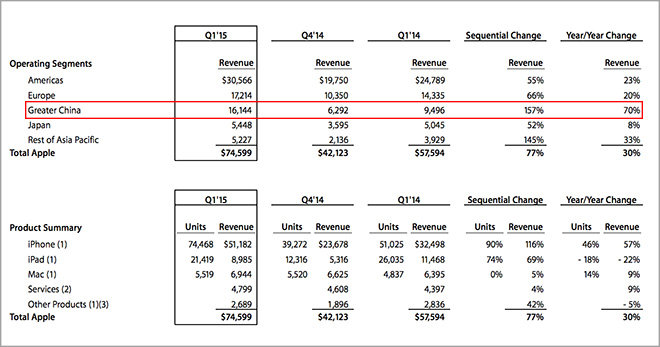 AppleInsider is supported by its audience and may earn commission as an Amazon Associate and affiliate partner on qualifying purchases. These affiliate partnerships do not influence our editorial content.
Apple on Tuesday announced a record smashing $74.5 billion in revenue with the usual suspects U.S. and Europe sales ticking the highest numbers, but China is quickly moving in on second place after bringing in a huge $16.1 billion.
For the quarter ending in December, Apple raked in $18 billion in net profit on $74.6 billion in revenue — the biggest quarter for any company in history — up 30 percent year-over-year. The company saw revenue grow in all sectors, including the U.S. and Europe, but this quarter's real mover was China, which rose from from $9.5 billion in the first quarter of 2014 to $16.1 billion in 2015.
While still in third place worldwide, China's performance put the region just behind Europe, which generated $17.2 billion in revenue. In comparison to China's 70 percent year-over-year growth, Europe revenue grew only 20 percent. Apple's domestic revenue was up 24 percent to hit $30.6 billion, up from $24.9 billion at the same time last year.
During Apple's quarterly conference call, CEO Tim Cook attributed a portion of China growth to online sales. For the first fiscal quarter, revenue from the Chinese Apple Online Store outperformed the sum of the previous five years, Cook said.
Earlier today, market research firm Canalys estimated Apple's iPhone led the Chinese market during the lucrative holiday quarter, beating Samsung and local handset manufacturers like Xiaomi. The popularity of iPhone, which brought sold a whopping 74.5 million units for $51.2 billion worldwide, is no doubt an essential piece of the puzzle in China.
It's clear that Apple's expansion into China is an important next step for the company, a point CEO Tim Cook has harped on for years. Most recently, the company has been pushing hard in retail. In October, Cook said Apple would open 25 new stores in China by 2016 and retail chief Angela Ahrendts recently revealed plans to open five Apple Stores in the region before the Chinese New Year on Feb. 19.