BMO raises Apple target to $135, predicts 19M Apple Watch & 207M iPhone sales in 2015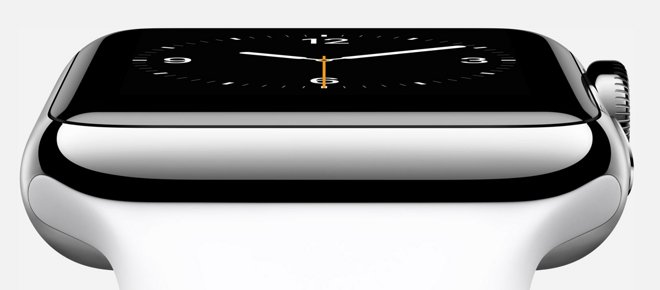 AppleInsider may earn an affiliate commission on purchases made through links on our site.
Investment firm BMO Capital Markets was the latest to increase its Apple price target this week in the face of the stock's huge gains, which are forecast to continue with the success of the iPhone 6 and upcoming launch of the Apple Watch.
Analyst Keith Bachman raised his target by $5 to $135, citing increased confidence that the iPhone installed base will upgrade to the latest iPhone 6 and iPhone 6 Plus. He also sees a large number of iPhone owners becoming early adopters of of the Apple Watch.
Bachman's projections call for Apple to sell 19 million Apple Watch units in calendar year 2015. He believes most of those sales — 10 million — Â will come in the December quarter, as people buy the wearable accessory for the holidays.
His numbers assume that by the end of the year, the Apple Watch will find its way onto the wrists of 4 percent of the 420 million users in the estimated iPhone installed base. Naturally, he suspects that sales will be greater to early adopters who already own the iPhone 6, with 8 to 9 percent of those buying the Apple Watch during the same period.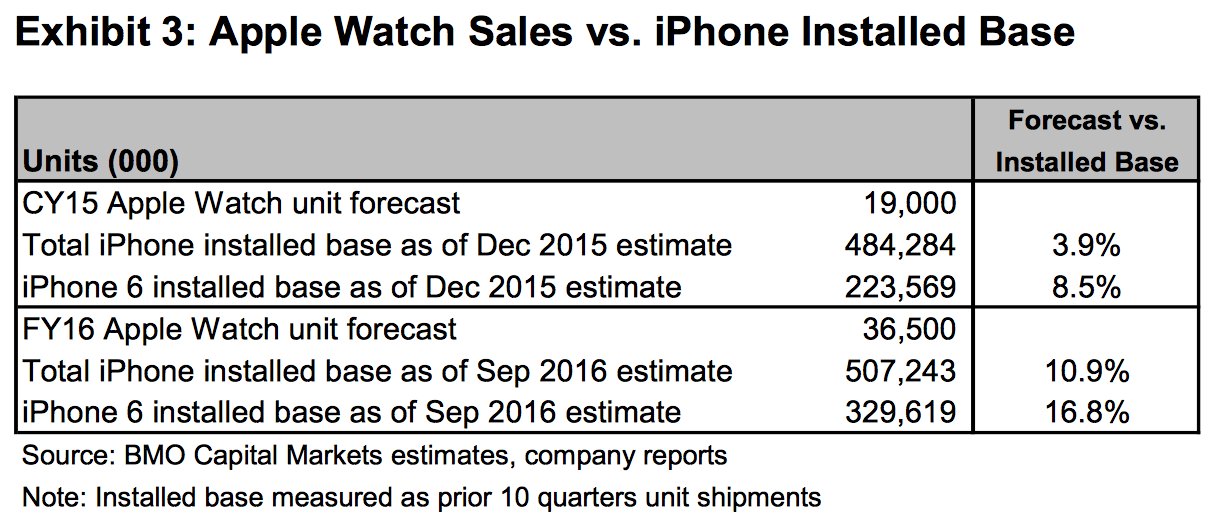 Looking forward to fiscal year 2016, Bachman believes the Apple Watch could reach as many as 17 percent of the iPhone 6 installed base by the end of next year.
As for the iPhone, Bachman projects calendar year 2015 sales of 207 million units — a number he admitted is "perhaps conservative."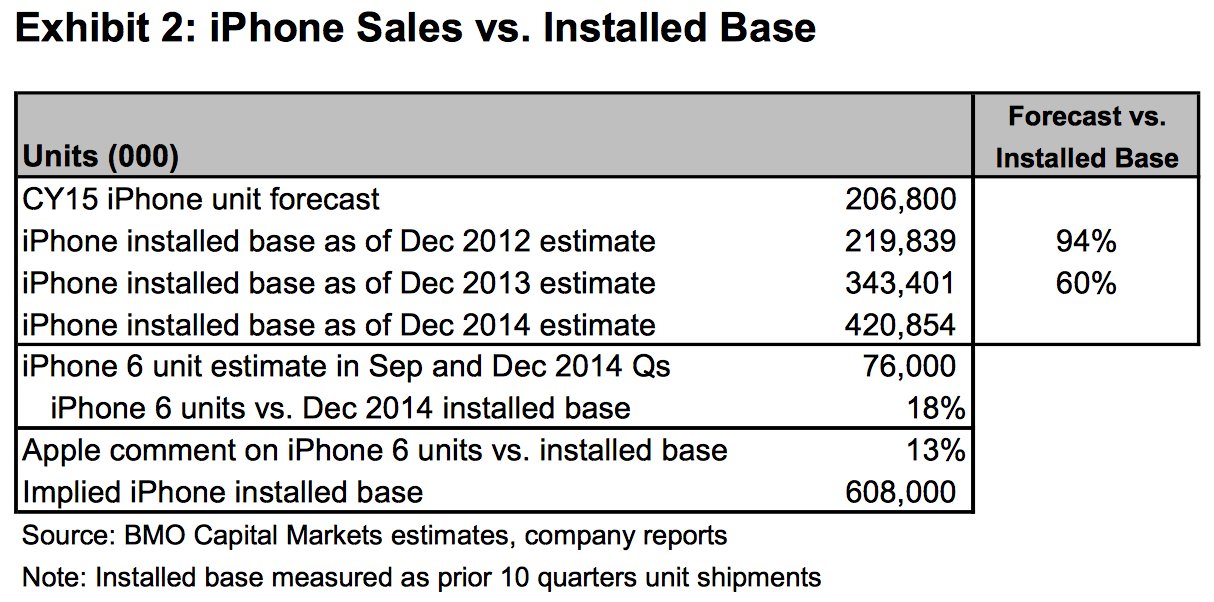 That's because as of the December 2012 quarter, he estimates that the iPhone installed base was at 220 million users. With those iPhone owners now likely out of contracts and eligible for an upgrade, if just 94 percent of them bought a new iPhone, it would meet his forecast of 207 million units.
"Apple's current iPhone offering, pending the Watch launch and the strength of Apple's family of products, combined with Apple's large and loyal installed base, gives us confidence in our iPhone forecast," he wrote.
BMO's bullish outlook on Apple has led the investment firm to maintain its "outperform" rating on the company's stock.