Aerial footage shows off temporary building at site of Apple's March 9 event, likely Apple Watch demo area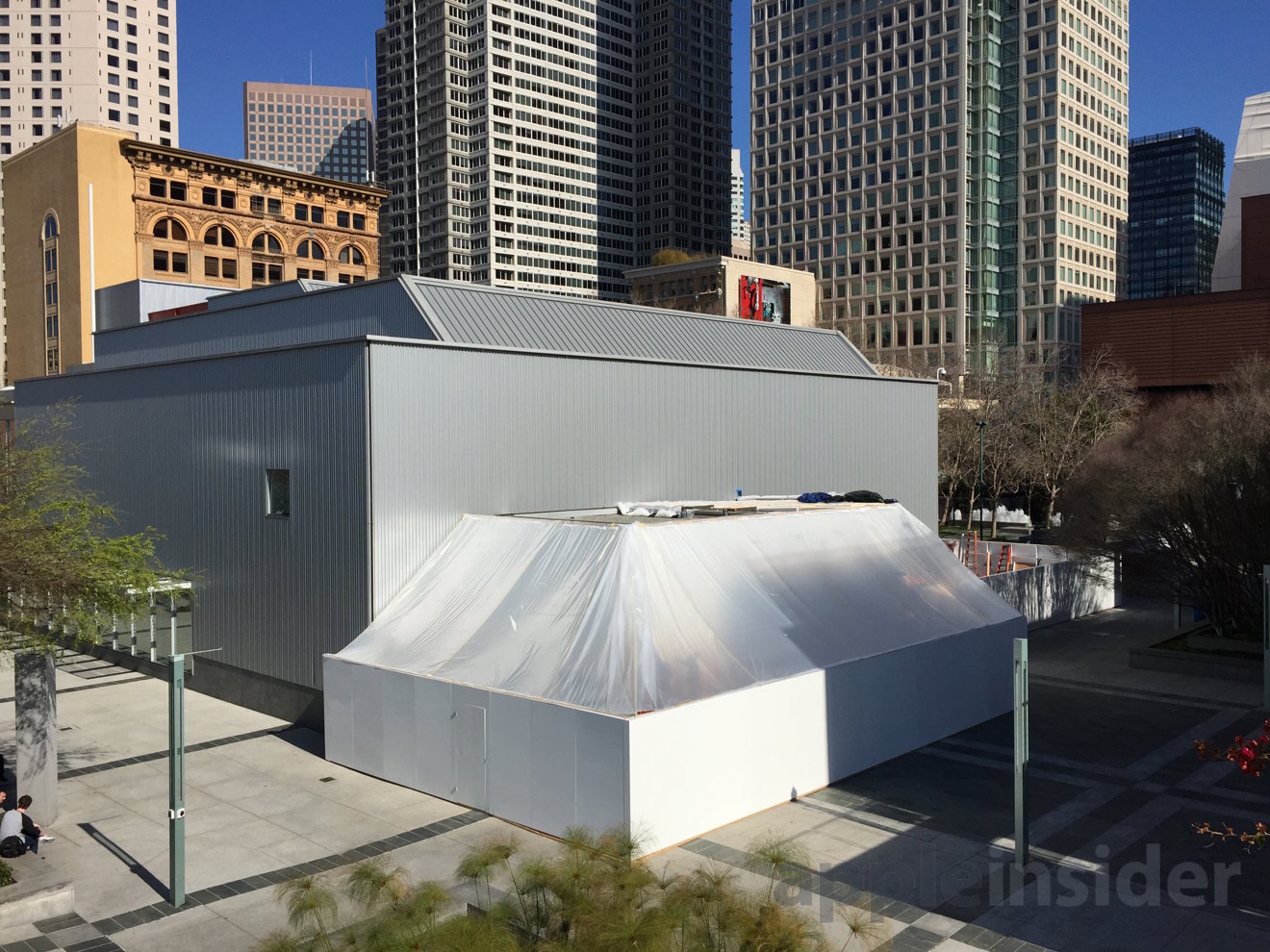 Apple is building an annex to San Francisco's Yerba Buena Center, where the company is expected to further detail Apple Watch at a special event next week, fueling speculation that the construction will yield a large demonstration area for attendees.
Construction of the makeshift expansion began late last week, though the exact purpose of the build is unknown as workers have since erected barriers and covered the area with white cloth. It appears that Apple is customizing an existing building, as the tent-like portion is actually part of the center's structure.
With Apple primed to reveal additional Watch details at a special event on March 9, the company could potentially use the extra space for device demos.
As can be seen in the exclusive aerial footage of the site below, workers are still putting the finishing touches on the temporary structure ahead of next Monday's media presentation. The keynote is scheduled to kick off at 10 a.m. Pacific, 1 p.m. Eastern.
Regarding the white facade, Apple pulled a similar move at the Apple Watch unveiling in September, when the company built a large freestanding structure next to the Flint Center for the Performing Arts. The building, which was much larger than the Yerba Buena add-on, housed an expansive demo floor for the Apple Watch, iPhone 6 and iPhone 6 Plus, all of which debuted on Sept. 9.
Last week, Apple sent out media invitations for a March 9 special event dubbed "Spring Forward," a reference to the fact that Saturday is when clocks will move forward in the U.S. for Daylight Saving Time. It's also a not-so-subtle hint that next Monday's presentation will focus largely on the upcoming Apple Watch, which is set to become available in April.
AppleInsider will be on hand at Monday's event in San Francisco, and will have full live coverage of the event. Readers can stay informed through the official AppleInsider app for iPhone and iPad, as well as on Facebook, Twitter and RSS.