Exclusive March aerial tour of Apple Inc's Campus 2 shows 'Spaceship' Ring, tunnel, theater progress, more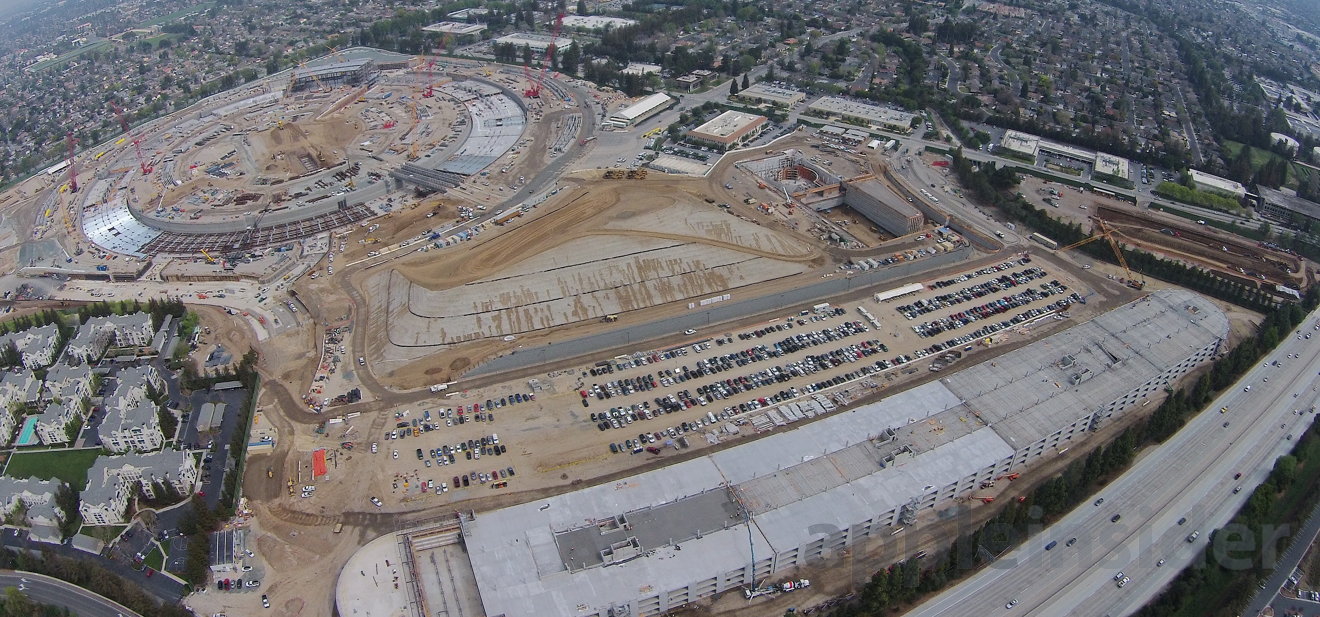 Apple's Campus 2 mega-project continues to progress on its "Spaceship" Ring, where concrete panels are filling out a floor. Tunnels that will connect to parking garages are emerging, the first parking structure is getting its finishing steps before the installation of solar panels.
In just over a month since we last examined the site's progress in early February, work on Apple Campus 2 has maintained its aggressive schedule.
The Ring connects to a tunnel structure that will replace Pruneridge Avenue, which formerly crossed through the site. The new underground roadway will also route vehicles toward two above ground, four story parking structures, the first of which is nearly complete apart from a top decking of solar panels— despite being just bare earth back in September and only beginning to rise in October.
Auditorium lobby rounding out
Just north of recently demolished Ridgeview Court 1 site, Apple's underground theater is now taking form, with its circular lobby area now rounding the bend. The north section, which is currently a large excavated hole, will be developed into a theater. Construction permits indicate that the auditorium complex will cost around $161 million to complete.
The theater site will include a 120,000 sq ft "assembly space" with seating for 1,000, kitchen facilities and a large lobby area. In September, the theater excavation was a shallow pit (below), just south of Ridgeview Court 3, which is the last major building within the site that has not yet been demolished.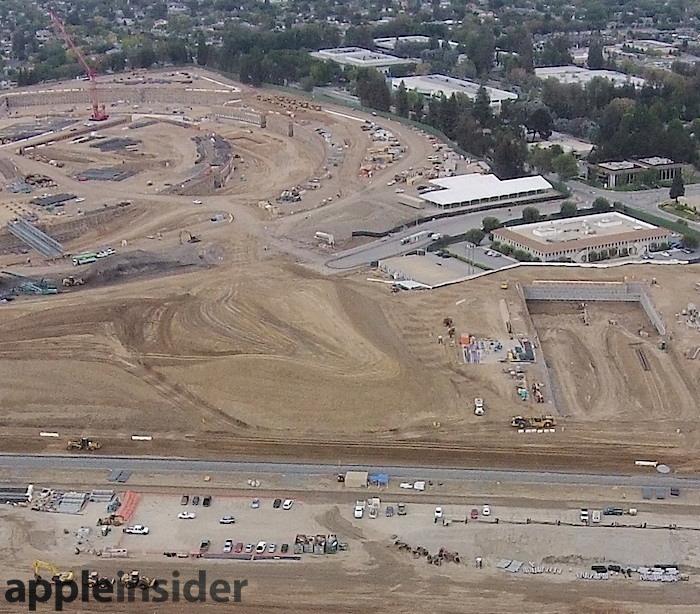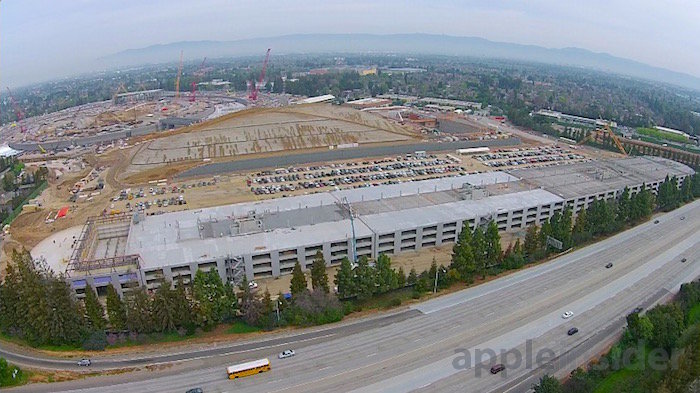 Expected occupation by the end of next year
Granted final approval just a year and a half ago ago, Apple's Campus 2 project is rapidly moving toward its occupancy goal of 2016.
Apple's cofounder Steve Jobs unveiled the huge project in 2011, noting that the central 2.8-million-square-foot "Spaceship" structure would house at least 12,000 employees, surrounded by bucolic landscaping including orchards of fruit trees and other greenery, featuring open space and walking paths to reclaim most of the 150-acre plot previously covered by asphalt parking lots.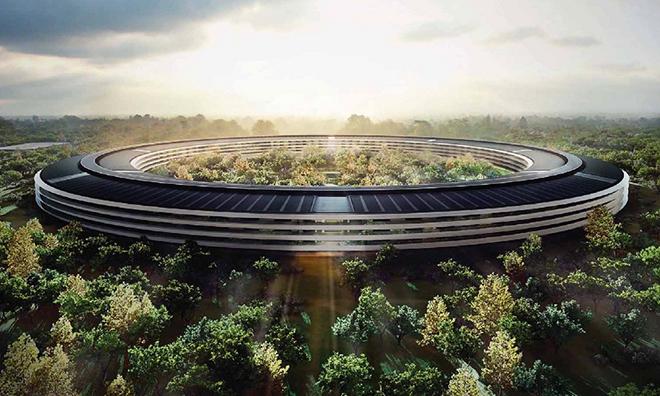 Note: Readers should be aware that Apple's Campus 2 site is extremely hazardous to photograph using an aerial drone, in part because the site is so large it is nearly impossible to fly over even one quarter of the site within constant visual or radio contact using a consumer drone, and in part because the site is partially within an FAA restricted zone because of the nearby San Jose International Airport. There is constant traffic of low flying aircraft over the site. We strongly encourage inexperienced aerial drone pilots not to attempt to fly in or around the site.