Apple debuts programatic iAd buys on iTunes Radio, 'Customer Match' demographic targeting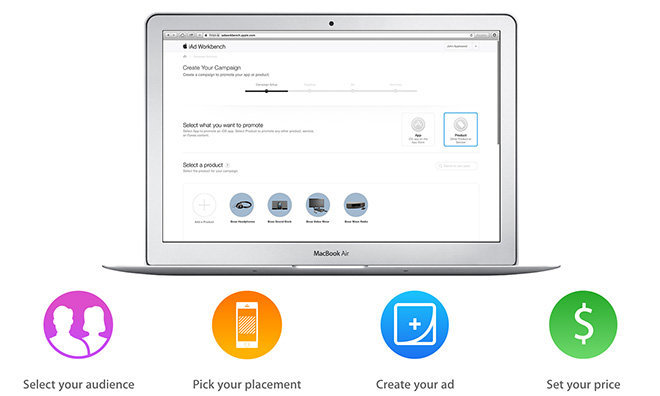 Apple on Thursday officially started accepting programatic, or automated, iAd buys for iTunes Radio and rolled out a new user targeting feature called Customer Match.
Advertisers can now purchase iTunes Radio ads through an automated process in Apple's enhanced iAd Workbench tool, reports AdAge. Previously, brands had to go through iAd's sales team.
Apple's newly implemented system is an extension of recent additions to iAd, the company's in-house mobile advertising platform, which started programatic ad sales in November.
Along with programatic purchasing, Apple introduced Customer Match, an ad-targeting tool that matches IDFA (Identifier for Advertisers) data to better segment device users. Marketers can use the system to cross-reference their own anonymized IDFA data with Apple's directly from iAd Workbench.
Apple is making privacy a priority with Customer Match, the publication said, noting neither advertiser nor Apple has access to specific customer pairings. Apple device owners can opt out of ad tracking services altogether in an iPhone or iPad's Settings menu. The theme is consistent with statements from CEO Tim Cook, who is a vocal advocate of consumer data privacy and has repeatedly said his company is not in the business of selling customer information.
Today's report comes on the heels of rumors that Apple would soon allow third-party ad agencies access to customer information for promotion targeting.
Apple's iAd move is timed perfectly with a spike in streaming music revenues. According to the Recording Industry Association of America, streaming services like Pandora, Spotify and Apple's Beats Music raked in $1.87 billion in the U.S. during 2014, a 29-percent bump year-over-year.
The streaming music industry is highly competitive and Apple has only recently started an earnest push for marketshare. Beats Music is central to these ambitions and Apple is reportedly working towards rebranding the service under the iTunes umbrella.