Apple Watch shops set to open on April 10 in London, Paris and Tokyo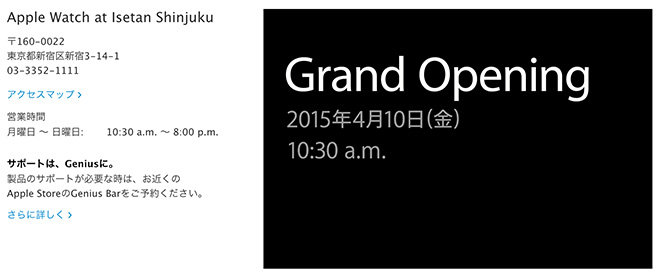 Apple on Thursday announced it will officially open three international Apple Watch store-within-a-store locations on April 10, offering customers shopping at high-end department stores the chance to try on and preorder the device before it goes on sale.
Dubbed simply "Apple Watch," the upcoming retail shops are popping up at locations previously known to be undergoing construction for Apple's wearables effort, including Selfridges in London, Galeries Lafayette in Paris and Isetan in Toyko. All three department stores cater to upper crust clientele.
As with Apple Stores, Apple Watch outlets will be manned by Apple retail staff, who will field questions and help pair customers with their desired model. It appears that Geniuses are not part of the deal, however, as Apple's regional retail webpages direct visitors to nearby Apple Store locations for product support inquiries.
A report on Wednesday said potential buyers can make reservations for a 15-minute demo of Apple Watch Sport and Apple Watch models, while those interested in the $10,000 Apple Watch Edition get 30 minutes of hands-on time. It is unclear how the small pop-up shops plan to handle demos, but they are likely to have all models available — even the limited gold versions — given the pedigree of their host stores.
All Apple Watch shops are scheduled to open their doors on Friday, April 10 at 10:30 a.m. local time, the same date Apple intends to roll out Apple Watch previews and preorders in its permanent stores. The device will become available two weeks later in the U.S., U.K., Australia, Canada, China, France, Germany, Hong Kong, and Japan.