Apple to offer 'Apple Watch Basics' Workshops at retail stores starting April 24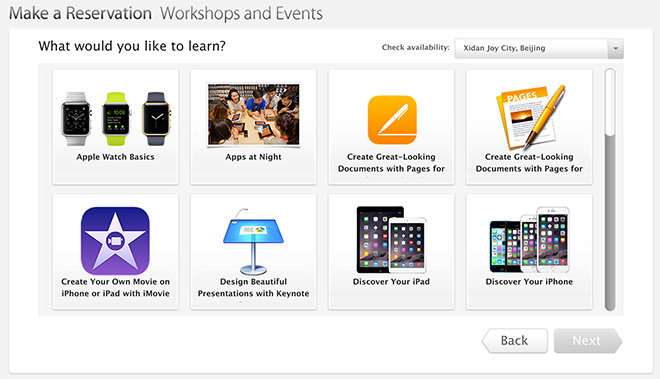 Apple's retail website was recently updated to reflect upcoming availability of a new Workshop called Apple Watch Basics, suggesting the company plans to roll out device training sessions for early Watch buyers from day one.
The Apple Watch Basics workshop is showing up as a Concierge option on a few individual Apple Store pages, allowing customers to set appointments for April 24 at locations like Xidan Joy City in China. Reservations can also be made through the Apple Store iOS app.
Describing what to expect from the session, Apple writes, "Bring your Apple Watch — along with your iPhone — and get familiar with your most personal device yet. We'll show you how to get started using Glances, gestures, watch faces, and more."
As noted by MacRumors, which spotted the workshop option earlier today, most Apple Stores currently offering Apple Watch Basics workshops hold the sessions every 90 minutes, though only select locations have reservations open for launch day.
It is unclear if Apple is planning a global workshop rollout, though reservations are currently limited to a small number of stores. Interestingly, some major flagship stores, like the Fifth Avenue outlet in New York, are not yet accepting reservations despite their proximity to huge pockets of potential customers.
Apple offers a number of in-store workshops designed to help customers better understand newly purchased products, whether it be hardware or software. Classes vary store-to-store, but most make staff available to help guide users with iPhone, iPad, Mac and major software releases.
Apple Watch owners can check with their local Apple Store for workshop availability. After seeing massive demand eat up launch supply within minutes of going live, it seems Apple is also extending workshop reservations to preorder customers who have to wait weeks, or in some cases months, for their Watch to arrive.
While Apple declined to release official preorder numbers, analysts speculate early adopters purchased upwards of one million Apple Watch units during its first weekend of sales. Noted analyst Ming-Chi Kuo pegged preorders to be closer to 2.3 million. In any case, supply is such that Apple told employees on Thursday not to expect in-store Watch purchases until June, at the earliest.