Jony Ive and Marc Newson reveal special Apple Watch Sport Band colors at Milan gala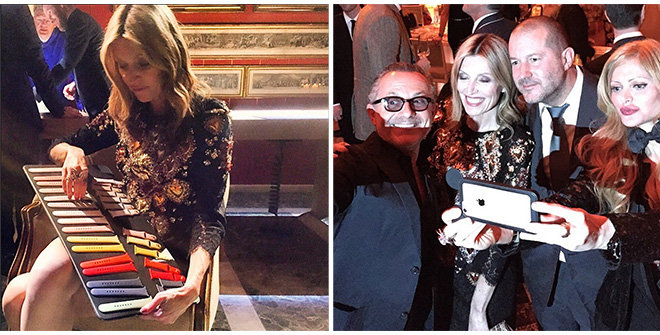 Apple designers Jony Ive and Marc Newson were on hand in Italy to attend a high-fashion coming out party for Apple Watch at upscale Milanese restaurant Carlo e Camilla. During the festivities, important guests were provided early copies of Apple Watch, as well as what appears to be Sport Bands in custom colors.
Socialite Umberta Gnutti Beretta, wife of Beretta firearms president Franco Beretta, posted to Instagram a few photos of tonight's gala attended by Ive, Newson and fashion and design luminaries.
One picture shows Beretta picking out a Sport Band for her early Apple Watch unit, selecting from an array of at least of 15 different colors including numerous light pastels, bright yellows and reds. The unannounced colorways jibe with photographs from British rugby great Will Carling, who said Ive gave him an unreleased UK power adapter and red Apple Watch band.
Italian fashion blogger Audrey Tritto, who was also at the event, posted a picture of name placards from guests seated at her table. Among them was Ive, Newson and his wife Charlotte Stockdale (herself a London-based stylist and fashion director at i-D magazine), Vogue Italia editor-in-chief Franca Sozzani and sister Carla, Wallpaper magazine editor-in-chief Tony Chambers, Dom Perignon cellar master Richard Geoffroy, high-society journalist Nicholas Foulkes and more.
Apple is showing off its first foray into wearables in a one-day exhibition at this year's Salone del Mobile design fair. Newson joined Apple SVP of Worldwide Marketing Phil Schiller at a demo session earlier in the day.
Although Italy is not among the nine Apple Watch launch countries, Milan is the fashion world's nerve center. A presence at Salone, followed by an invitation-only dinner, exemplifies Apple's efforts to position Watch as a high-end fashion accessory.
Apple Watch is slated to ship out to preorder buyers on April 24, but supplies are such that in-store purchases are not expected to roll out until June.