Beyonce seen sporting Apple Watch Edition with gold link bracelet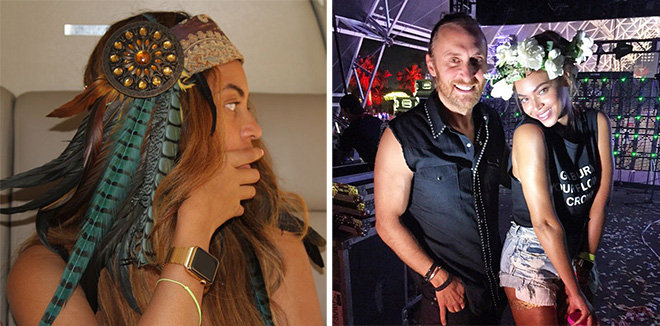 AppleInsider may earn an affiliate commission on purchases made through links on our site.
Less than a week after star fashion designer Karl Lagerfeld showed off pictures of his yellow gold Apple Watch Edition with custom all-gold link bracelet, Beyonce was seen at Coachella wearing what appears to be the same combination.
Beyonce was spotted donning the ultra luxe Apple Watch while attending a set by David Guetta on Sunday, the last day of this year's Coachella Valley Music and Arts Festival. A closer look at Beyonce's custom gold-on-gold Watch was made available on Monday through the artist's official visual blog.
Interestingly, the Watch is being worn on Beyonce's right arm with Digital Crown facing away from the wrist, meaning she has not changed screen orientation settings for "left handed" use. Apple Watch allows owners to flip the user interface from a general settings menu, accommodating both right- and left-handers.
While Apple is supplying Apple Watch to big names in entertainment and fashion, only Beyonce and Lagerfeld are known to have gold link bracelets. Exclusive band options extend beyond materials, however, as Apple handed out Apple Watch Sport Bands in custom colors to fashionistas attending a launch party in Milan over the weekend.
Beyonce is just the latest celebrity to be caught wearing Apple Watch in the wild, seemingly as part of a strategic advertising campaign targeting young, fashionable buyers. Most recently, Coachella headliner Drake put on his Edition for an Instagram photo last week. Other musicians who have early access to Apple Watch include Pharrell Williams and Katy Perry.