Apple Watch pops up on wrist of Pharrell Williams during NBC's 'The Voice' [u]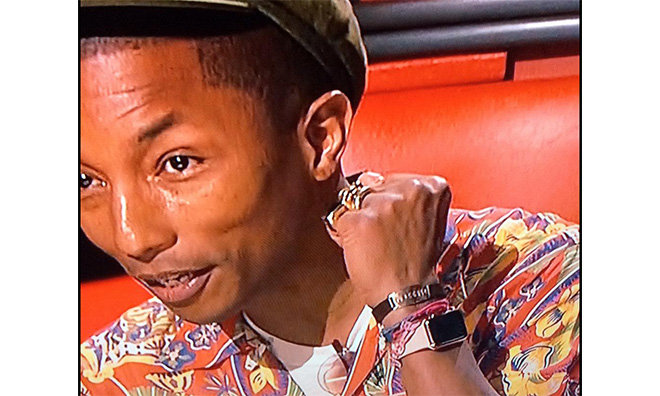 As Apple Watch edges closer to release, it appears Apple is releasing sample units to high profile personalities, with Pharrell Williams being among the first.
During Monday's airing of NBC singing competition "The Voice," Pharrell, who is a judge on the show, was seen sporting what appears to be a stainless steel Apple Watch with white polymer bracelet.
Pharrell is the first celebrity to show up in a highly public setting wearing an Apple Watch without Apple's supervision. Prior to today, other notables — mostly fashion models — posed as cover models in major print publications like Self, the UK's Style, Elle Australia, Fitness First, Hong Kong's East Touch and Canada's Flare.
Christy Turlington Burns and her family also have access to more than one Watch, but she is acting as a type of brand ambassador for Apple. Every week, Turlington Burns writes a diary entry about her experience with the device, especially as it pertains to her training for the London Marathon.
Apple Watch has been seen "in the wild" on the usual suspects like Apple CEO Tim Cook and other top level executives. For the most part, however, exposure to the media has been tightly controlled, like an arranged meet-up where SVP of Internet Software and Services Eddy Cue showed off Apple Pay on Apple Watch at Golden State Warriors basketball game last month.
Since its unveiling, Cook has openly worn the device at nearly every ensuing public event. On Monday, for example, Cook was seen sporting a Watch at the NCAA championship basketball game between Wisconsin against his alma mater Duke.
Update: Pharrell has subsequently posted a short video on Instagram showing off his Apple Watch with Mickey Mouse face.