Drake shows up at Coachella wearing an Apple Watch, posts proof to Instagram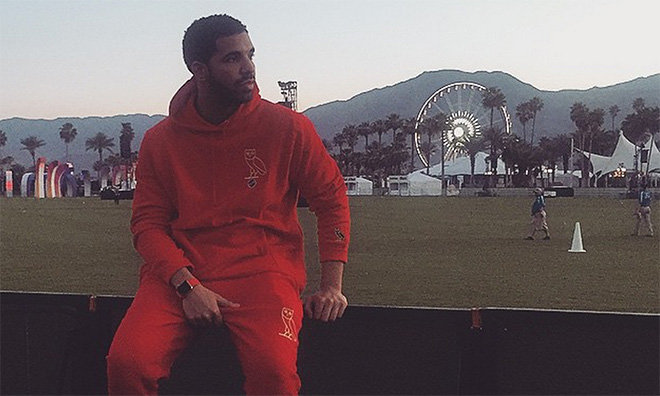 Just hours before Apple Watch preorders are scheduled to go live on the Online Apple Store, rap star Drake posted to Instagram a picture of himself wearing the hotly anticipated device at this year's Coachella Valley Arts and Music Festival.
Drake in a posh foyer feeding a lioness milk; a soccer ball sitting on stacks of Benjamins; October's Very Own sitting on a wall at Coachella, wearing a yellow gold Apple Watch Edition with red strap to match his all-red OVO-branded sweats, gazing wistfully out into nothing; all photos from Drake's "champagnepapi" Instagram account, a chronicling of the rap star's fantastic life, the most recent being his Apple Watch shot posted late Thursday night.
Drake is the latest high profile celebrity to be afforded the chance to wear — and presumably spend thousands of dollars on — an Apple Watch before the general public. Earlier this week Pharrell Williams was seen on NBC's "The Voice" sporting a similar Edition model before he, like Drake, uploaded a first look at Watch to Instagram.
Apple is pushing hard to ramp up Apple Watch visibility as the product nears release, orchestrating a multi-pronged campaign involving both mainstream media and guerrilla advertising. A report on Thursday estimated Apple has spent some $38 million since its March 9 "Spring Forward" event on television ads alone, buying up space during popular shows and sporting events for maximum exposure. According to market research firm iSpot.tv, Apple's "Watch Reimagined" spot showed up more than 300 times over the past month.
Apple Watch goes up for preorder on Friday at 12:01 a.m. Pacific, the same day brick-and-mortar Apple Stores around the world open their doors to customer try-on appointments. Photos and video from those sessions have already made their way to the Web.