Apple Watch rollout delayed by defective Taptic Engine vibrator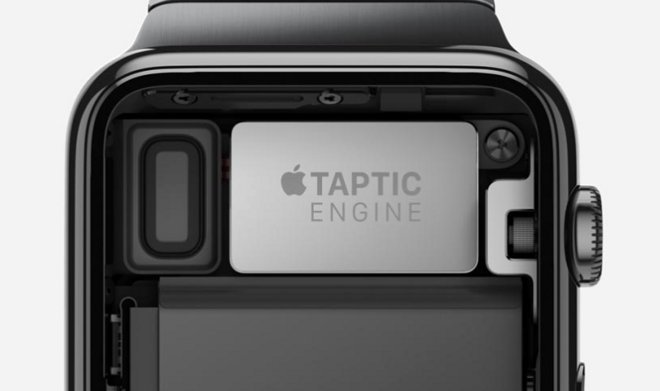 A report on Wednesday claims Apple discovered a serious flaw in certain vibrator mechanisms that power Apple Watch's Taptic Engine, prompting completed units to be scrapped just prior to launch.
Citing sources familiar with the matter, The Wall Street Journal reports an unknown number of haptic feedback motors built by AAC Technologies Holdings broke down during reliability testing shortly after mass production of Apple Watch kicked off in February. AAC is one of only two suppliers responsible for the critical Taptic Engine part, Apple's branded haptic feedback technology for Apple Watch.
The report lines up with statements from noted KGI analyst Ming-Chi Kuo, who earlier this month alluded to restricted supply of Taptic Engine parts from AAC. AAC is based in Hong Kong, but the component in question is believed to come out of a factory in Shenzhen, China.
"Our team is working to fill orders as quickly as possible based on available supply and the order in which they were received," Apple said. "We know many customers are still facing long lead times and we appreciate their patience."
Since discovering the flaw, Apple has moved nearly all production to its second supplier, Japanese company Nidec Corp. It is unclear how long it will take Nidec to ramp up manufacturing to equalize the deficit.
Sources said Apple instructed certain Apple Watch suppliers to slow production until June without offering further explanation.
The Taptic Engine is powered by a custom linear resonant actuator that produces small vibrations by moving a mass back and forth along a single axis. Unlike rotating mass vibrators commonly used in older cellphone applications, LRAs can be manipulated to provide users with different sensations, from light taps to strong continuous rumbles.
To make up for the shortfall in parts inventory, which has seen Apple Watch demand far outstrip supply, Apple is reportedly considering adding another assembler to help current partner Quanta Computer. Sources said Foxconn recently began Apple Watch production testing, though the firm is not expected to begin manufacturing until late 2015.
Apple Watch preorders went up on April 10, though many customers looking to buy a launch day model went away disappointed as initial stock sold out within minutes. As it stands, all Apple Watch models are backordered, with estimated shipping dates ranging from a couple weeks to months.