Apple discontinues 15" MacBook Pro BTO models ahead of Force Touch refresh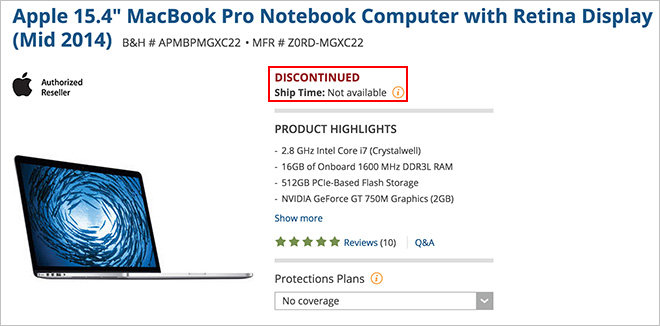 Apple on Friday began discontinuing many models of its professional 15-inch notebook ahead the company's annual developers conference, which is widely expected to give way to updated models with Force Touch trackpads and Intel's latest mobile processors.
In an effort to draw down channel inventory ahead of the conference — which runs June 8 to 12 in San Francisco — Apple began delaying shipments of many non-standard (otherwise referred to as "BTO" or "CTO" configurations) several weeks ago. At the time, AppleInsider reported on the MacBook drawdown, noting that estimated shipping times were rapidly increasing.
Since then, most indirect channel partners and some retail stores have run out of many or all 15-inch MacBook Pro models, as seen in our Mac Price Guides. And on Friday, the Cupertino-based company began officially discontinuing many of those same CTO models while preparing final shipments of the two standard 15-inch MacBook configurations.
For instance, MacMall is completely out of 15-inch MacBook Pro models, including retail configurations, while Amazon and most other resellers only retain stock of the base configuration. Meanwhile, Apple's own online store says standard models are available to ship in three to five business days, but configuring a model with faster processors bumps up the lead time to two to three weeks — around the time of Apple's annual Worldwide Developers Conference (WWDC).
Most telling, however, are two pages (one & two) on the online store of Apple Authorize Reseller B&H's which were updated within the last 12 hours to indicate that both models have been marked end-of-life (EOL), or retail speak for a product that is discontinued. The first being a 2.8GHz version with 512GB SSD and another with 1TB of flash storage. At the same time, B&H also raised the price of the two standard 15" configurations (MGXA2LL/A & MGXC2LL/A) overnight — the latter back to MSRP — indicating that stock of those models is similarly running thin.
Apple is widely expected to launch a refreshed 15-inch MacBook Pro in the near future, with speculation that a new model with Force Touch trackpad and speed upgrades will debut at this year's WWDC in June. The flagship MacBook Pro with Retina display was last updated in July 2014 with Intel Haswell CPUs and more standard memory.