Apple, IBM to take partnership into education with app for teachers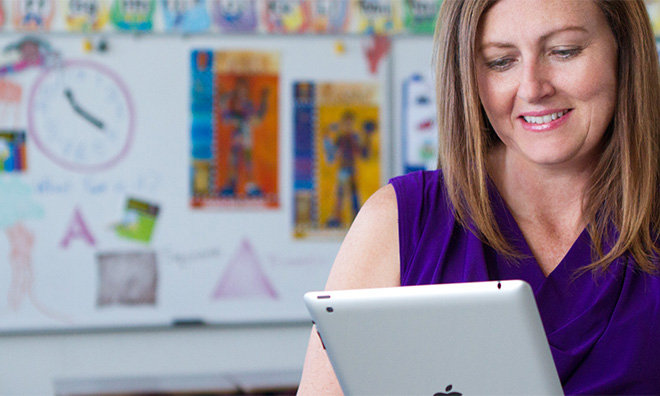 It appears that Apple and IBM have plans to stretch their mobile solutions partnership beyond enterprise and into the classroom, as the companies are co-developing an experimental app that provides teachers with real-time student data analytics.
Building off "IBM MobileFirst for iOS," Apple and IBM have been working on an education package called the "Student Achievement App" for some time, the Coppell Gazette reported on Thursday.
Tentatively scheduled to roll out as a pilot program at four school districts around the U.S. in 2016, including the Coppell Independent School District in Texas, the Student Achievement App is a dynamic teaching tool that harnesses data analytics — likely provided on the backend by IBM — to supply educators with actionable intelligence on a per-student basis. The app will run exclusively on Apple hardware.
Representatives from Apple and IBM presented the project to the Coppell ISD Board of Trustees on Monday.
"It's the experience of bringing together phenomenal teachers, principals and administrators with great user experience people and great data scientists that will allow us to get to heart and transform what's going on in the classroom," said Alex Kaplan, global leader for IBM's personalized learning on cloud solutions team.
Kaplan said the MobileFirst for iOS offered an opportunity to discuss how that same technology might be converted to serve the education market. Members from Apple and IBM have been in discussions with the Coppell ISD for several months, the report said.
The app can be tailored to specific grade levels and subjects. Details are scarce, but it looks as though the app will be developed based on the flexible MobileFirst for iOS platform. It is not yet known whether Apple or IBM will take the lead in software development, but with MobileFirst deployments IBM does the heavy lifting with help from Apple.
"The idea here is we want to stimulate adoption," Kaplan said. "We want teachers to want to log on every morning. We want to change their work in such a way that they're excited to log on and see what's changed, what's different [...] we want that sort of rush of excitement."
A prototype Student Achievement App is slated for completion in one to two months, while a working first version should follow in the fall. School districts in Texas, South Carolina and Maryland are being considered as project partners.
Apple, known for its prowess in marketing technology in education initiatives, was recently dealt a blow when the Los Angeles United School District scrapped a $1.3 billion iPad-based program in December due to cost overruns, institutional mismanagement, security breaches and a questionable bidding round. LAUSD has since threatened legal action against unless Apple agrees to a multimillion dollar refund.