Apple's new iPod touch, iPod nano, & iPod shuffle: which one is right for you?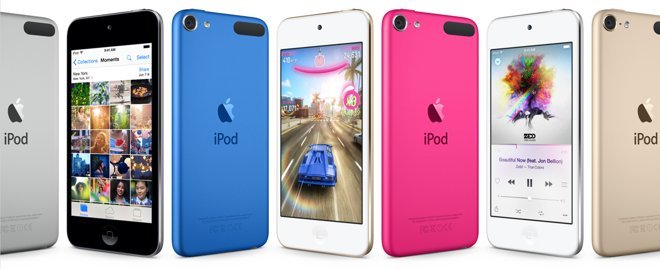 AppleInsider is supported by its audience and may earn commission as an Amazon Associate and affiliate partner on qualifying purchases. These affiliate partnerships do not influence our editorial content.
In a world of iPhones and iPads, iPods nevertheless continue to have a place at Apple, and Wednesday's update of the iPod touch — plus new colors for the Nano and Shuffle — raise the question of which iPod, if any, a person should buy.
iPod touch
For the vast majority of iPod shoppers, the iPod touch is the easily the best option. It's the only iPod that runs iOS, which gives it access to Siri and all the apps available for the iPhone.
Since its only wireless connections are Bluetooth and Wi-Fi, apps that require GPS on the go or a cellular connection won't work — but the addition of an M8 motion coprocessor means that even many fitness apps should be useful.
The importance of apps can't be overstated. Even if your interest is just in music and podcasts, the iPod touch opens up access to Internet radio, on-demand platforms like Apple Music and Spotify, and better podcasting options than Apple's own mediocre effort. On top of this you can take photos, do online and offline video, play games, and make calls through FaceTime, Skype, and other services.
People who already have an iPhone or iPad might still want an iPod touch, whether as a backup, a device they can leave connected to a clock or speaker, or something they're less worried about breaking when taking to the gym — or handing to their kids.
Indeed, the iPod touch has long been popular with parents wanting to give their kids an iPhone-like device that isn't saddled with monthly fees or a high upfront cost. As a gaming handheld, its only real competition stems from the Nintendo 3DS and the iPad mini.
With four storage options ranging between 16 and 128 gigabytes, it's also the one realistic iPod option for people who want to take most or all of their music collection with them.
iPod nano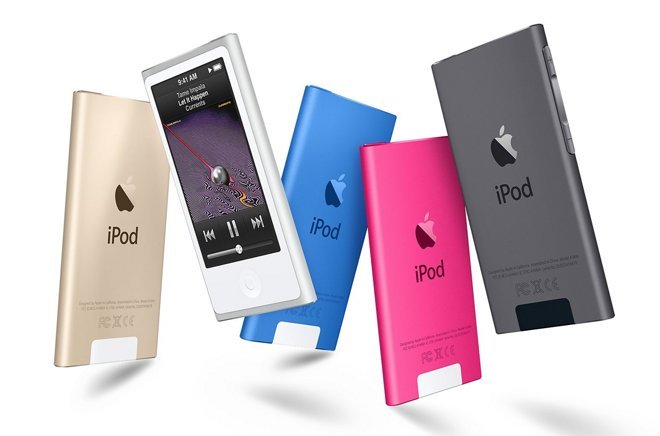 Let's get this out of the way: Buying an iPod nano is almost certainly a bad idea for most consumers.
Ignoring the new colors, which ultimately don't matter, Apple hasn't made any changes to the iPod nano since 2012. That means the device is limited to the same 16 gigabytes of storage, and an operating system that doesn't support third-party apps, simply mimicking iOS — an outdated version (iOS 6) at that.
It really only has a few saving graces, namely video, FM radio, and a $149 pricetag. That could put it in a sweet spot for a handful of runners and gym-goers tied to the Apple ecosystem, since it also has Nike+ support and a built in pedometer. Anyone serious about fitness tracking has probably moved on, though, whether to a Fitbit, Garmin, Jawbone, or Apple Watch.
Apple's insistence on a $149 pricetag is almost offensive otherwise. The Nano is just $50 less than the latest Touch, which outstrips it in every way except for FM radio. A Nano might be worth buying at $50, or even $100 — check eBay and Craigslist — but at its current price, it's not a good value for most people.
iPod shuffle
The iPod shuffle is similarly overpriced, costing $49 despite having just 2 gigabytes of storage, no screen, and a design even older than the iPod nano, dating back to 2010. It should probably be priced at $30, if that much.
The device does have a few qualities which keep it relevant, at least moreso than the iPod nano. It remains Apple's most affordable media player, and because there's no screen, it's more difficult to break. It's also extremely compact, and it is the only iPod with a built-in clip.
Apple appears to have laser-targeted the iPod shuffle at fitness fans who want music and podcasts but nothing else, or are justifiably worried about breaking or losing a device worth several hundred dollars. Smashing a Shuffle in a bike accident is far easier to handle than doing the same with a $649 iPhone 6.
Conclusions
Almost invariably, people should ignore the iPod nano and iPod shuffle and skip straight to the iPod touch if they want one of Apple's latest portable music players. It's the most powerful and flexible model, geared to the modern era of apps and Internet streaming. The iPod nano is essentially redundant, and while the iPod shuffle does have value, it's in a narrow niche.
The very concept of an iPod has become irrelevant for many people, so it remains to be seen how the new iPod touch will sell. It could potentially be the last new iPod if the Apple Watch evolves into a standalone product not dependent on an iPhone connection.