Gold rear shell purportedly for Apple's 'iPhone 6s Plus' said to feature stronger construction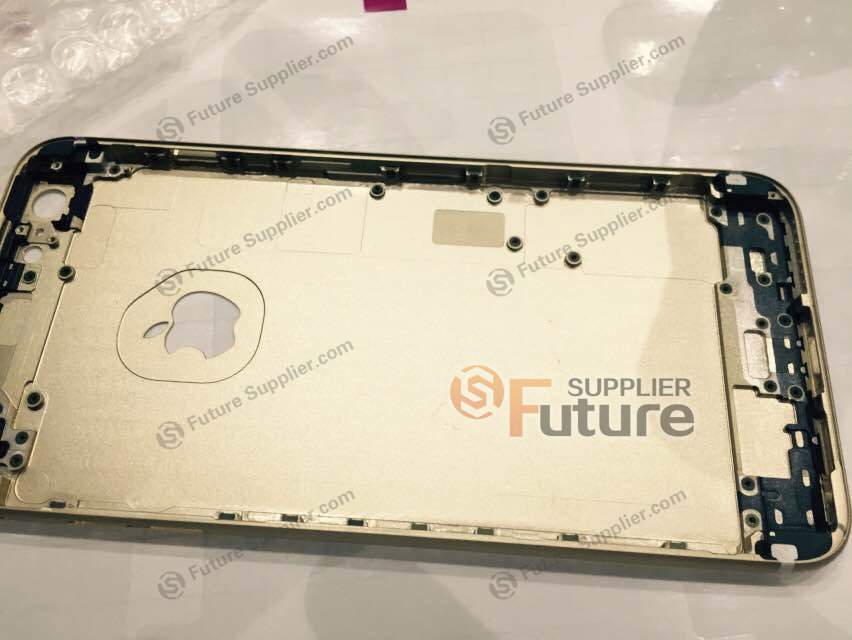 AppleInsider is supported by its audience and may earn commission as an Amazon Associate and affiliate partner on qualifying purchases. These affiliate partnerships do not influence our editorial content.
New pictures claim to show a rear casing for Apple's next-generation "iPhone 6s Plus" in gold, and a hands-on with the part assert that it features new material for stronger construction than the current iPhone 6 series.
The alleged "iPhone 6s Plus" component was obtained by Future Supplier, who noted that aside from some slightly different screw placements, the casing design is largely identical to the current iPhone 6 Plus. That's to be expected, as this year's new iPhones are expected to be an "s" upgrade cycle with largely the same form factor as last year.
But the source who got their hands on the case indicated that the material used to build the alleged "6s Plus" housing feels "stronger" than the material used on the current iPhone 6 Plus. This new strength may come at a slight cost to the feel of the material, as the person suggested that the iPhone 6 Plus casing is smoother than the alleged leaked "iPhone 6s Plus" part.
The details align with claims made last month by well-connected analyst Ming-Chi Kuo of KGI Securities. Kuo revealed that the next iPhone will feature the same 7000 Series aluminum currently found on the Apple Watch Sport — Â an alloy said to be 60 percent stronger than most aluminum, with just one-third the density of stainless steel.
Kuo also said the new casing will be be slightly wider and taller by about 0.15 millimeters, while it will be thicker by 0.2 millimeters. The ever-so-slightly larger design is believed to allow the device to accommodate for Force Touch input, which AppleInsider exclusively reported in February will be coming to this year's iPhones.
Other than the new screw placement, which may suggest a redesigned speaker module in the next-generation iPhone Plus, the part appears to be largely the same, and even features the same shade of gold currently offered. The new pictures were spotlighted on Friday by Nowhereelse.fr.
Apple is expected to introduce a new color option with this year's iPhone lineup, with reports indicating that the "iPhone 6s" will be available in a new rose or pink gold shade. That would bring it in line with the Apple Watch, which is available in both yellow gold and rose gold. However, the Apple Watch colors are true 18-karat gold, while the rose gold iPhone is expected to be a shade of aluminum.