More than 80% of mobile podcast listeners use Apple's iOS devices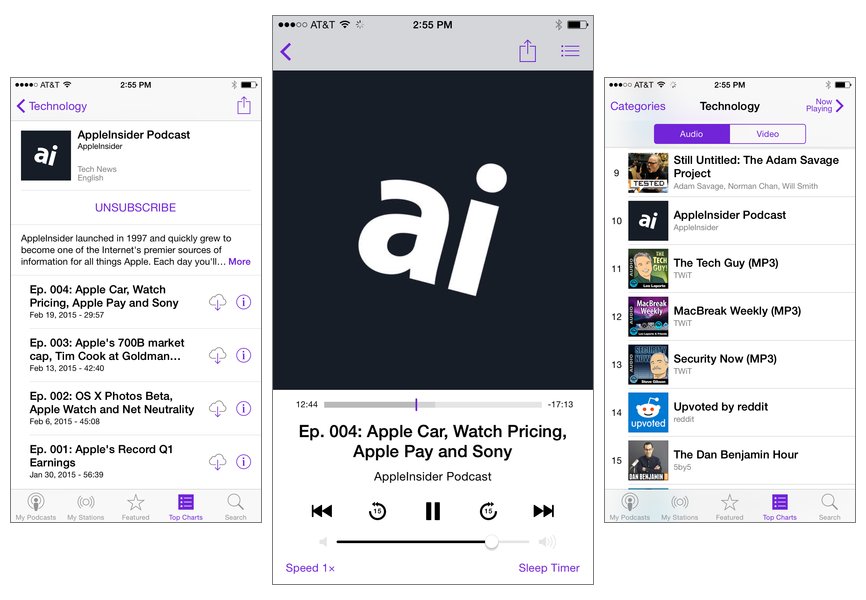 AppleInsider is supported by its audience and may earn commission as an Amazon Associate and affiliate partner on qualifying purchases. These affiliate partnerships do not influence our editorial content.
Amid a surge in podcasting popularity, new data suggests that Apple continues to dominate the online broadcasting industry it helped create, with more than 8 out of every 10 podcast listeners using the company's iPhone, iPad, or iPod touch to tune in.
Among the 82 percent of podcast listeners who use iOS devices, nearly all — Â 78 percent — Â use Apple's built-in Podcasts app, according to a report issued by audio platform Clammr. The numbers come as podcasting is beginning to explode worldwide, a decade after rising to prominence alongside the iPod.
A similar report issued in February pointed to the inclusion of the Podcasts app in iOS 8 as a significant growth driver, helping in part to lead an 18 percent increase in podcast listens. The global popularity of NPR's "Serial" podcast, in which a journalist investigates a real-life murder case, was also cited as a contributing factor.
With podcasting now emerging from its niche status, it remains to be seen whether Apple has plans to continue stepping up its support of the format. The company is currently celebrating 10 years of podcasts in the iTunes Store, featuring a number of popular shows including Serial parent This American life and HowStuffWorks's Stuff You Should Know.
AppleInsider recently launched its own podcast in which editors discuss the week's top stories. New episodes are released on Fridays, and listeners can subscribe via iTunes or the official Podcasts app for iOS.