First Volkswagen models with CarPlay support to arrive at dealerships this week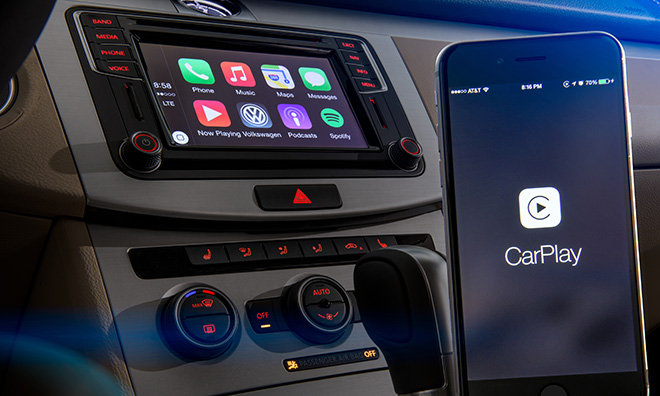 AppleInsider is supported by its audience and may earn commission as an Amazon Associate and affiliate partner on qualifying purchases. These affiliate partnerships do not influence our editorial content.
After promising support for Apple's CarPlay infotainment system earlier this year, Volkswagen on Wednesday announced the first compatible 2016 model year cars will hit showroom floors this week.
An integral part of Volkswagen's Car-Net connected vehicles platform, the second-generation Modular Infotainment Platform (MIB II) offers seamless app platform integration with CarPlay, Android Auto and MirrorLink, the company said. The carmaker is rolling out MIB II across its 2016 lineup, save for Eos and Touareg.
CarPlay is part of the "App-Connect" branch of Car-Net's connected vehicle umbrella, which also includes "Security & Service" telematics and car safety, and "Guide & Inform" navigational aids. In addition to CarPlay-enabled apps, VW offers its own software like Media Control, a technology coming to e-Golf premium models that lets passengers control certain aspects of the MIB II infotainment system.
Volkswagen first announced plans to support CarPlay at CES in January, saying at the time it expects compatible vehicles to roll out in the U.S. and Europe in late 2015.
Compared to other marques, VW is aggressively pushing its in-car technology forward, especially integrations with third-party operators like Apple. In May, the company released an updated Car-Net iOS app that introduced remote control and monitoring functions for Apple Watch.
CarPlay is quickly gaining traction within the automotive community as carmakers vying for consumer attention increasingly turn to technology as a brand differentiator. For example, Honda recently announced its first CarPlay-enabled model will be the 2016 Accord, while General Motors and Ford have also confirmed support for their 2016 fleets.