Leaked 'iPad mini 4' renderings again reveal thinner 6.1mm design, iPad Air 2 influence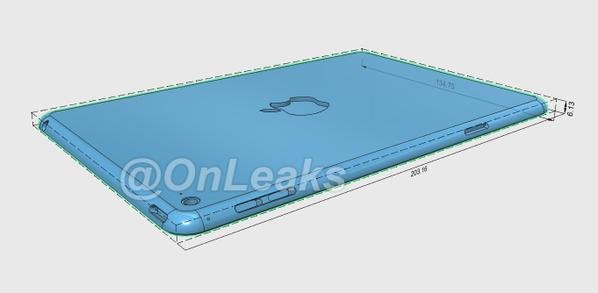 Leaked design renderings, purportedly for Apple's anticipated fourth-generation iPad mini, appear to support claims that the tablet will be even thinner than its predecessor, putting it on par with the iPad Air 2.
The so-called "iPad mini 4" should be about 6.1 millimeters thick, according to images and video shared by @OnLeaks. The Mini 3, by contrast, has a depth of 7.5 millimeters. The depicted device also has a look and feel similar to the iPad Air 2, Apple's current flagship tablet.
If authentic, the renderings echo multiple reports — including one from KGI Securities analyst Ming-Chi Kuo — pointing to both the thinner dimensions and the use of Air 2 design cues. Some rumors have also hinted at the device having the same internal specifications as the iPad Air 2, such as A8 processor, an 8-megapixel camera, and 802.11ac Wi-Fi.
@OnLeaks is considered a generally reliable source, having previously supplied accurate leaks about devices like the iPhone 5s and iPhone 6. In April it also claimed to show photos of the "iPad mini 4" chassis.
At the time, more questionable rumors held that Apple might release a fourth-generation iPad mini early to make up for a lackluster iPad mini 3 launch last fall. That device sports the same design and internals as the iPad mini 2, but added just Touch ID and a new gold color option.
It's generally expected that Apple will release the "iPad mini 4" as a part of its regular fall iPad updates, alongside a so-called "iPad Air 3" as well as a possible 12.9-inch iPad,> referred to as the "iPad Pro." The company has launched new iPads in October in recent years, though a recent report alleged that Apple could reveal its latest iPads at an anticipated iPhone media event on Sept. 9.