Disney animators test Apple's iPad Pro, reveal screen has roughed surface for drawing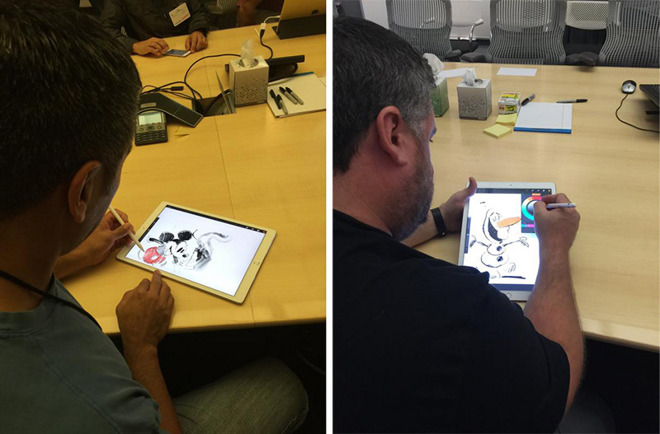 AppleInsider may earn an affiliate commission on purchases made through links on our site.
A week after Apple offered Pixar staff an early look at the new iPad Pro with Apple Pencil, the company let animators at Walt Disney's Feature Animation studio take its upcoming tablet for a spin. Interestingly, the artists commented that the device's screen surface has "tooth," or textured roughness, to augment drawing feel.
As seen in the photos above, Apple's visit was documented by Disney's senior software engineer Paul Hildebrandt in a series of tweets on Tuesday, while others chose to conduct live drawing demonstrations via Periscope.
Using iPad Pro's 12.9-inch workspace, in conjunction with the pressure and position sensing Apple Pencil, animators like Paul Felix recreated classic Disney characters like Mickey Mouse and Olaf from "Frozen." A Periscope cast by Jeff Ranjo was perhaps most interesting as the video reveals iPad Pro's screen has a slight "tooth" to it, allowing for a bit of tactile feedback while drawing with Pencil. It is unclear if the screen design is part of the shipping product, as Apple has not officially discussed the reported tweak.
From offscreen, Ranjo says he spoke with Apple engineers about iPad Pro's creative capabilities who noted the tablet's surface is not as rough as comparable pen-and-tablet solutions offered by Wacom. With the slight change, Apple is looking to offer better picture clarity than competing products, Ranjo says. Apple staff also commented on Pencil's pressure sensitivity, saying the device is not tuned to mimic the response of Wacom's stylus technology, but stand alone as its own optimized system.
Overall, Disney's animators seemed impressed with what Apple accomplished in iPad Pro, especially paired with Apple Pencil. Many compliments echoed sentiment from Apple's visit to Pixar, with staff commenting on how well features like palm rejection technology were implemented.
Apple's iPad Pro is set to debut in November. While Apple has yet to set an official street date, the latest rumor out of China claims the tablet will debut in the first week of the month.